William Donaldson Clark was born in Ayr in 1816. He was trained in chemistry. After running a calico works in the North of England, he returned to Scotland. He photographed several Edinburgh street scenes around 1860.
Princes Street - July 1858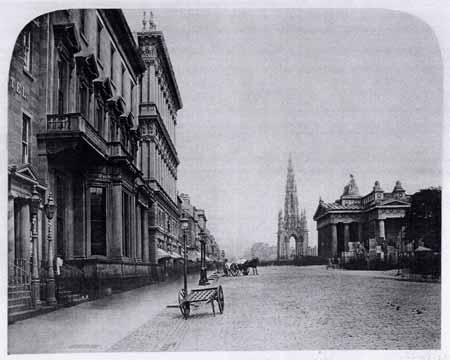 © Reproduced by courtesy of Edinburgh City Libraries and Information Services
An albumen print of Princes Street, taken by Clark in July 1858, looking to the East along Princes Street from the junction with Frederick Street.
This is one of four views of Edinburgh by Clark to be auctioned by Christies, South Kensington, London, on 11 May 2001. This print is 8 1/4 ins x 10 ins.
The auction catalogue gives an estimated sale price of £1,500 to £2,000 for this print. [CSK] [Catalogue, EN:DT:27 April 2001].