Recollections - Beaverbank

Duncan's Chocolates

From 1940s

Recollections

1.

Matt Rooney
Ayrshire, Scotland

- Free Sweets

- Dundee

- Glasgow

- Powderhall

- The Waverley

with reply from

David Greig
London, Edinburgh and Falkirk

- Glengarry Biscuits

2.

Alex Dow
Fife, Scotland

- Duncan's Lassies

- ATC Summer Camp

- Cocoa Butter

3.

Robert Hepburn
Cornwall, England

- Raw Chocolate

- City Mission

4.

Helen Stoddart
Edinburgh

- 'Big Mary'

- Chocolate Soldiers

- Chocolate Mice

- Friends

5.

Virginia Davis
Barboursville, Virginia, USA

- Duncan's Chocolate Tin

- Date?

6.

Elizabeth Robertson
East Lothian, Scotland

- Duncan's Chocolates Van

7.

Matt Rooney
Ayrshire, Scotland

- Duncan's Chocolates Van

8.

Danny Callaghan
Falkirk, Stirlingshire, Scotland

- Duncan's Chocolates Van

9.

Iain Monro
Philipstoun, West Lothian, Scotland

- Duncan's Web Site

10.

Liz Grieve
Bristol, Avon, England

- 1960-70s

- Damaged Chocolates

- Walnut Whips

11.

Danny Callaghan
Falkirk, Stirlingshire, Scotland

- Duncan's Chocolates Van

12.

Win Johnston
(maiden name)
Australia

- Working Girls

13.

Carole Mills (née Manson)
Adelaide, South Australia, Australia

- Working Girls

14.

- Working Girls

15.

Jim Waugh
Newtongrange, Midlothian, Scotland

- Duncan's Chocolates Today
Recollections
1.
Matt Rooney
The Beaverbank area of Edinburgh is situated beside the Water of Leith, about a mile to the north-east of Princes Street.
Thank you to Matt Rooney, New Cumnock. Ayrshire, Scotland, for the recollections below of industries in the 1940s, in the Beaverbank area, including Duncan's Chocolate Factory and Beaverbank Motors.
Matt
Aged 28, 1961
Matt wrote:
Free Sweets
"When I started at Duncans, I was told that I could help myself the sweets. This I was told to prevent the stealing of sweets, but I wasn't told at the time that too much sugar content is bad for us. I ended up having about 16 boils in a year. My Mum, who had been a nurse, had the task of bursting them with the aid of a milk bottle. I cannot remember how."
Dundee
"At Duncan's, I progressed from the inner workings to being a Van Boy. Andrew was the Foreman of the Vans as well as being a Driver. I was his Van Boy and spent a lot of time with him.
The routes varied from week to week. I travelled all over Scotland delivering not only Duncans Chocolate but Cadbury's and Other Manufacturers as well. We had to stay in Temperance Hotels, the reason being that Mr. Duncan didn't want the Drivers to be tempted with the Demon Drink or words to that effect.
I do know that on the Trips with Andrew I had to learn to drive extremely quickly, or else we would not have delivered our van-load in the 4 days allotted to us. I think that's the reason that I know so many roads in Scotland so well,
We seemed to spend a lot of time going to Dundee as Duncans had a Depot there, and on the road there and back we visited all the wee towns and villages that we had orders for.
The Forth Road bridge had not yet been built, so we caught the early ferry across the Firth of Forth at South Queensferry. If we didn't manage to get on the 7:30 am ferry, then we had to drive like mad to the Kincardine Bridge and hare along the shore road until we got back to where we should have been if we had caught the ferry. Then it was along the coast road going Via Kirkcaldy and Crail if that was our route that week, or the direct route to Dundee."
Stranraer
"Another time, we would be in Stranraer. I remember going to the cinema there, and it was like a nissen hut made of tin, but the place was packed out as it was the only entertainment in the village.
Another time, we got stuck because of the snow on the road called 'Rest and Be Thankful', which was really bad in winter and looks absolutely beautiful in summer."
"There was also a Duncans Depot in Glasgow in a Railway Goods Bay, I think it was near The Barrows.
Does anybody know which biscuit manufacturer made the Glengarry biscuit? "
Glengarry Biscuits
Reply
Thank you to David Greig for leaving a message in the EdinPhoto guest book. Here is an extract from David's message:
"Glengarry ... was a Macdonald of Glasgow brand, in common with Penguin, Yoyo, Taxi, and of course the Munchmallow, a superior version of other makers' Chocolate Teacake.
Apparently, United Biscuits, after WW2, merged Macdonald with Edinburgh firms McVitie and Price, McFarlane Lang, and two companies bearing the Crawford name.
For some time afterwards, the companies maintained their separate identities and brands. But Macdonald seems to have been the first to go, with McVitie, as it became known, taking on its brands and dropping the Glengarry at much the same time."
David Greig, London/Edinburgh/Falkirk, December 26, 2007
"I remember when working at Duncans taking about 20 x 1 cwt, of coverture chocolate to a biscuit manufacturer through to Glasgow.
Their place was at the back of where all the roads seem to meet nowadays, at the West End. We actually went along part of the road that takes you to Loch Lomond, (well, eventually).
Coverture is part of the Process from Beans into Chocolate Proper, but how far along the food chain it is, I have no idea. I do know that when it goes into the next process it turns either into milk chocolate or plain chocolate. I only got to sample the finished product. It was yummy then. Modern chocolate isn't quite the same - in fact I just can't eat it as it makes me ill, honest"
Powderhall
"When there was a Dog Meeting at Powderhall on a Wednesday afternoon, one of the lads from Duncans would be sent by the Gent who collected on behalf of a certain Bookie, to the wee pulley in the warehouse and would lower the bets to someone below.
The Management at Duncans turned a blind eye to this practice - "a contented workforce etc!" I think was the motto.
I was one of the Lads that was sent, and of course after the Meeting the reverse happened and the winnings if there were any."
'The Waverley'
"I first encountered The Paddle Steamer 'Waverley' when I worked at Duncans. Either Duncans or their Social Club had hired the 'Waverley' for their Annual Do. That's when I learned how to do the Hokey Kokey.
This type of dance could be a bit hazardous, collapsing in a hail of either laughter or embarrassment on the decking. I think perhaps the odd noggin had something to do with it."
Matt Rooney, ( now aged 73): Ayrshire, Scotland, August 2005.
The notes above now include additional material provided by Matt on March 7, 2008.
Please click here to read about some of Matt's other jobs including Beaverbank Motors.
Please click here to see an example of Matt's verse and rhyme.
Recollections
2.
Alex Dow
Fife, Scotland
Thank you to Alex Dow, Fife Scotland for his memories, from the 1940s, of Duncan's Chocolates in Edinburgh.
Alex wrote:
Duncan's Lassies
"The notes about Duncan's brought back more memories.
The No's 8 & 9 trams passing up Rodney Street from Granton etc, just before the change of shifts, would be jammed with Duncan's lassies in white overalls and turbans, getting off at the Rodney St stop, to make their way along Broughton Road to the factory.
The trams would be filled with the aroma of chocolate - but on an industrial scale, not quite the same."
ATC Summer Camp
"Travelling to my first ATC Summer Camp at RAF Locking, Weston-Super-Mare in 1949, one of the other cadets had a block of this scrap chocolate, weighing about 5 pounds; and looking huge in the circumstances.
We left the Caley Station at about 01:00 hours on the Saturday morning, arriving in Weston some 14 hours later, travelling by a special "troop train".
The chocolate didn't last long, being hacked to bits by our eating irons (cutlery)."
Cocoa Butter
"That same year, I encountered cocoa butter, the main ingredient of chocolate, for the first time - this strange white material. Was it really the starting point for Duncan's Hazelnut Chocolate?"
Alex Dow, Fife, Scotland: September 8, 2006
Recollections
3.
Robert Hepburn
Thank you to Robert Hepburn, Cornwall, England, for more memories of Duncan's Chocolates in Edinburgh in the 1940s.
Alex wrote:
Duncan's Workers
"I noticed many comments re Duncans chocolate works. The workers used to throw down the raw chocolate to us at Symingtons coffee works and we used to scrape the good stuff off the top!
At least there were always plenty of dentists at that time in the 1940's.
Robert Hepburn, Cornwall, England: February 9, 2007
City Mission
We were encouraged, on a Wednesday afternoon, before playing soccer in Logie Green, to go in for a Paris Bun at the City Mission."
Robert Hepburn, Cornwall, England: February 9, 2007
Please click here to read an update on the City Mission
Recollections
4.
Ella (Helen) Stoddart
Edinburgh
Thank you to Helen Stoddart (née Gold) for the recollections below.
Helen wrote:
'Big Mary'
"My mother's best friend was Big Mary (Mary Mclaughlin). She lived in East Arthur place and they were mates from childhood. She was one of the supervisors at Duncans chocolate factory and she got me a job there."
Chocolate Soldiers
"Every week all the workers got a big box of chocolate, little soldiers and the little mice full of cream. My wee brother Eric would get the soldiers and take them on a Saturday morning to the New Victoria kids' cinema club and smuggle them in (ha ha ha ha). There, he would share them with his mates."
Eric, mentioned above, is Eric Gold, He has provided many recollection of Edinburgh for the EdinPhoto web site. Eric now lives in East London.
Chocolate Mice
"I would give Toodils, the cat, a little mouse which he loved and when Easter came I got a huge Easter Egg full of chocolates."
Friends
"We had a great staff there at Duncans and I met and made a lot of friends who also worked with me at the Whiskey Bonds and on the buses."
Ella (Helen) Stoddart, Edinburgh: April 28, 2007
Recollections
5.
Virginia Davis
Barboursville, Virginia, USA
Thank you to Gin Davis who wrote:
Question
Duncan's Chocolate Assortment Tin
"I have a very old tin. It is (and written on the bottom) a "1 lb. net weight Chocolate Assortment made by W. & M. Duncan Ltd Edinburgh Scotland"
I learned the M. was for Margaret. So it is a very early tin. I can not find when she died though or when the name changed, so I am not certain of its date. And I could not find any design samples to compare it to.
W & M Duncan Ltd
I've checked some old Edinburgh & Leith Trade Directories and discovered that Duncans used the name 'W&M Duncan Ltd.' over a long period.
The company was listed under that name in the trade directories for 1930-1, 1940-1, 1950-1 and 1961-2. I've not checked other years.
- Peter Stubbs: January 29, 2008.
My tin has a hinged top. It is 1 and 3/8 inches tall, about 9 and 1/8 inches wide and about 7 inches deep. It is mostly red and has fancy gold trim on the top and sides.
At the bottom of the lid is written in italicized script, 'Duncan Chocolate Assortment'. Featured in the center is a pretty white doily with 12 assorted chocolates on it."
Date?
"Do you, by any chance, know anyone who would know about this tin design and its date? I have a feeling it was one of their first one pound tins…it looks very old…physically and in its design."
Virginia (Gin) Davis, Barboursville, Virginia, USA: January 29, 2008
If you think you can help to answer Virginia's question, please e-mail me and I'll pass on your message to her.
Thank you. - Peter Stubbs
Recollections
6.
Elizabeth Robertson
East Lothian, Scotland
Thank you to Elizabeth Robertson who wrote:
Duncan's Chocolates Van
"I've just finished reading an article on Duncan's chocolate factory by Matt Rooney. I believe that the Andrew he refers to in his article may have been my grandfather Andrew Beveridge Douglas."
Elizabeth Robertson, East Lothian, Scotland: March 7, 2008
To enlarge this photo and to read more comments from Elizabeth and a reply from Matt Rooney, please click on the thumbnail image below:
Recollections
7.
Matt Rooney
Ayrshire, Scotland
After replying to the message about the Duncan's van, Matt Rooney added:
Maggie's Bus
"The only other connection with Duncan's chocolates that I know of concerns the lad who owned 'Maggie's Bus',
He had been an Apprentice Engineer at Duncans when I was there. We met again at Luss car park, Loch Lomond, after 'The Bus' broke down while they were filming a scene for 'Take the High Road'. I haven't heard from him for a while."
Matt Rooney, Ayrshire, Scotland: March 14, 2008
Recollections
8.
Danny Callaghan
Falkirk, Stirlingshire, Scotland
Thank you to Danny Callaghan for telling me about his family's connections with Duncan's Chocolates. Several of Danny's family lived nearby at Beaverbank Place.
Danny Wrote:
Aunt and Uncle
"My aunt, Annie Elms, and husband, Harry Elms, of Beaverbank Place, both worked in Duncans.
Walnut Whips
"My aunt worked her way up the ranks doing various tasks including stretching the toffee. She worked for a while on the Walnut Whip line and graduated to being allowed to put the walnut on the top, all done by hand.
Today, Nestle make their Wallnut Whips in Halifax, and claim that Walnut Whip is its oldest brand. One is eaten every two seconds in Britain, but they no longer have the walnut inside as well as on top."
Fork-Lift Trucks
"Harry carried out mainly labouring and warehouse duties at Duncans and used to tell me about driving a fork-lift truck."
Danny Callaghan, Falkirk, Stirlingshire, Scotland
Recollections
9.
Iain Monro
Philipstoun, West Lothian, Scotland
Duncans left Edinburgh in the 1990s and were subsequently taken over., but some products are still marketed under the 'Duncans' name. Some people have asked me where they can buy these.
Thank you to Ian Monro for telling me about this Duncans of Scotland web site. It has contact details for the company that now produces Duncan's products.
Acknowledgement: Iain Monro, Philipstoun, West Lothian, Scotland: January 25, 2010
Recollections
10.
Liz Grieve
Bristol, Avon, England
Thank you to Liz Grieve who wrote:
1960s-70s
"Oh, how I wish my folks were alive to read your site! My mother, Rita Watt worked at Duncan's Chocolates in Edinburgh between the late-1960s early-1970s."
Damaged Chocolates
"The best part was 'Cash Sale Day'. This took place on either a Tuesday or a Wednesday. The staff were allowed to buy 'damaged' chocolates cheap."
Wallnut Whips
"I remember my mum bringing home 1/4lb bags of Smarties and Black Magic. In the early days they used to make Walnut Whips and there used to be two walnuts in the chocolate, one inside at the bottom and one on top. Oh happy days !!"
Acknowledgement: Liz Grieve, Bristol, Avon, England: February 1, 2011
Recollections
11.
Danny Callaghan
Falkirk, Stirlingshire, Scotland
Thank you to Danny Callaghan for commenting on two topics raised by Roger Hepburn in 3. above.
Danny wrote:
Duncan's Workers
"As kids, living in Broughton Road in the 1950s, we all knew when the Duncan's girls would be coming off shift as we would hear the factory horn sounding.
This was our signal to stand at the stair doors and see if we would be the lucky ones to be given some chocolate from the girls. Most usually had some in their white overall pockets. They used to come up Broughton Road in a wave and were generally laughing and joking.
Danny Callaghan, Falkirk, Stirlingshire, Scotland: February 16, 2011
Recollections
12.
Win Johnston
maiden name
Australia
Thank you to Winifred Johnston who wrote:
Working Girls
"I lived at 91 Broughton Road from 1941 to 1956. We could see Duncan's chocolate factory from our 2nd floor tenement window. I remember the working girls when they knocked off, smelling like chocolate.
I emigrated to Australia with my family in 1956, when I was 15.
Win Johnston: Australia: June 27, 2013
Recollections
13.
Carole Mills (née Manson)
Adelaide, South Australia, Australia
Thank you to Carole Manson who wrote:
Chocolate Samples for Reps
"I worked at Duncan's Choc Factory, and used to make up samples for the Reps. I also showed visitors around the place. It was quite an experience, working there.
Three of Duncan's Workers - 1953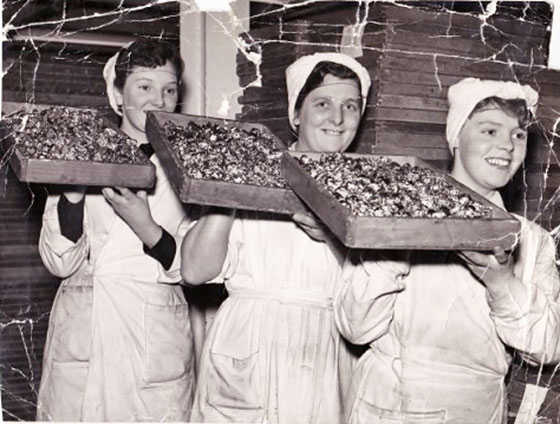 © Reproduced with acknowledgement to Carole Manson, the girl on the leftin this photo
This photo is of me with two other girls, taken for the Evening Dispatch newspaper.
I was the girl at the back with the different hat on. I would have been 16, so the photo must have been taken in 1953.
I don't remember the names of those girls, but they may recognise themselves."
Carole Mills (née Manson), Adelaide, South Australia, Australia: February 14 + 17, 2014
Who is in the Photo?
If you are one of the 'other two girls' in this photo, please email me to let me know, then I'll pass on your message to Carole. Thank you.
Peter Stubbs, Edinburgh: February 16, 2014
Recollections
14.
Ian Layton
Cedar Creek, Texas, USA
Thank you to Ian Layton for sending me the message below and also a message about Powderhall Stadium,
Duncan's Chocolates
"Hi! I just came across your site and it brought back childhood memories to me.
My mother worked at Duncan's for a time. My sister and I have fond memories of slightly imperfect Walnut Whips and Mint Thins that she brought home on Cash Sale Day!"
Ian Layton, Cedar Creek Texas, USA: April 3, 2014
Recollections
15.
Jim Waugh
Newtongrange, Midlothian, Scotland
Thank you to Jim Waugh who wrote:
Duncan's Chocolates - Today
"I still get Duncan's Hazelnut and Ginger chocolate at the Blackness Castle, Historic Scotland shop. I go there with a bird watching group."
Jim Waugh, Newtongrange, Midlothian, Scotland: 13 August, 2016