Smokey Brae
St Margaret's Steam Loco Depot
"Kim Traynor's comments (above) about Smokey Brae are generally quite right. However, the 'railway yard' mentioned was in fact the old St Margaret's steam locomotive depot at Meadowbank/Restalrig/Piershill. The easternmost wall of this depot was the tall stone wall that still forms the right hand side retaining wall of Smokey Brae, going up.
Above the retaining wall on the other side are the Piershill Square West flats, and as the prevailing wind there is often from the west, they and the Brae often received the product of dozens of steam locomotive fireboxes, particularly on Sundays, when many of the resident locos were having their fires prepared for traffic on Monday."
The Fug
"The ex-railwayman writer Charles Meacher, in his very readable but now out-of-print book 'LNER Footplate Memories', makes mention of the fug that was produced in this way, and as a frequent Sunday train-spotting visitor to the shed myself in the early 1960s, I can personally attest to it.
The smoke from the newly-lit fires was often yellowish-brown, and seemed to move sluggishly, presumably because the fires were not yet hot enough to create a strong through-draught between firebox door and chimney."
"Here is one of my own photos taken at the depot. It was taken on a clear midweek day in the summer of 1964, when most of the locos were 'off shed', working. It shows the proximity of the loco shed to the Piershill flats.
Loco 60027 'Merlin' - St Margaret's Depot - Summer 1964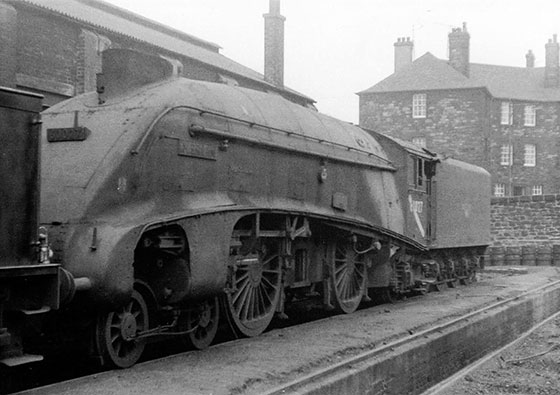 © Laurie Thompson, Chipping Sodbury, Gloucestershire, England: June 27, 2014
(The middle driving wheels of the pictured loco have been removed for attention in the adjacent workshop building, by the way - hence its odd appearance.)"
"The railway authorities were always aware of how their engines could adversely affect their neighbours, and a few years ago I came across this notice on the subject, a copy of which was no doubt a permanent fixture on the notice board in the enginemen's signing-on area at St Margaret's depot.
St Margaret's Depot - Notice to Shed Staff - "Avoid Excessive Smoke"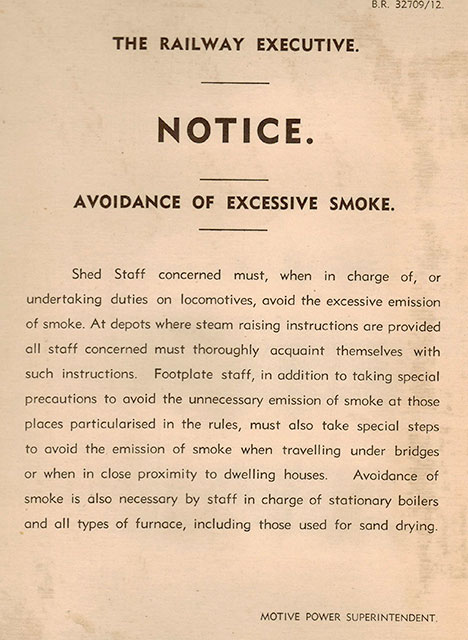 © Laurie Thompson, Chipping Sodbury, Gloucestershire, England: June 27, 2014
However, burning coal in a freshly-lit fire inevitably makes smoke, so with the best will in the world, this notice couldn't hope to defeat the laws of combustion."
Now Long Gone
"St Margaret's loco depot is now long gone, replaced by a cluster of office blocks, so presumably the present residents of the Piershill flats don't have to worry about sooty specks on their washing any more, and also don't need to clean their windows as often as the previous residents did!"
Laurie Thompson, Chipping Sodbury, Gloucestershire, England: June 27, 2014