John Lamb
Hand-tinted Photo
on
Ceramic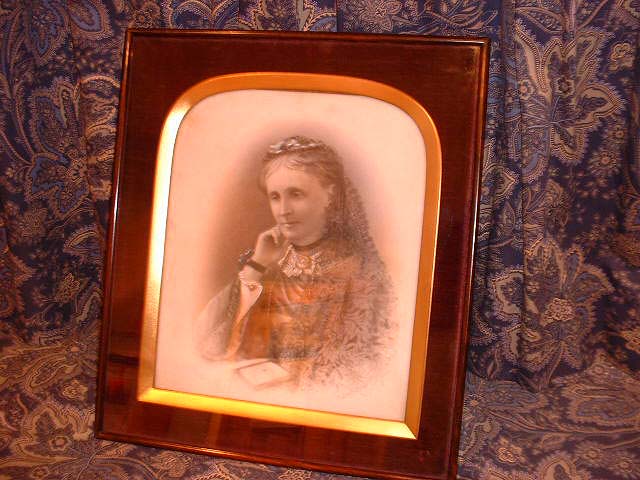 © Keith Perry, Claverley, Shropshire, England
Photo on Ceramic
Thank you to Keith Perry for allowing me to reproduce this photo.
Keith wrote:
Frame and Photo
"As you can see from the image is framed in a very early, quality mahogany or similar deep frame, 15.5"high x 13.5" wide. The back of the picture has a recessed hinged stand. When the upstand is opened it reveals a small label that reads:
JOHN LAMB
LATE PETER DIVINE
PHOTOGRAPHER AND PORTRAIT PAINTER
101 PRINCES STREET
EDINBURGH
The picture is on a hard thick material, approx 3/16 ins thick. On the front of the picture at the bottom right-hand corner is hand written 'J. Lamb Edin'."
Keith Perry, Claverley, Shropshire, England: January 21 + February 1, 2011
The Photo
My first reaction on seeing this was that it could be a hand-tinted photo on opal. Keith took it to his local auction house and was told that it was hand-tinted, but was heavy so appeared to be on ceramic.
Question
Keith wonders if anybody has any idea of the value of this item. If you can answer this question, or have any other comments on this photo and frame, please email me, then I'll pass on your comments to Keith.
Thank you.
Peter Stubbs, Edinburgh: February 10, 2011