Postcard published by J R R E
John R Russell - Edinburgh
Rev Dr George Reith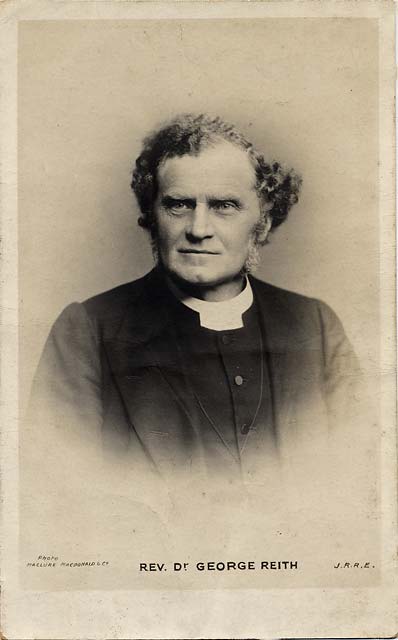 © Copyright: For permission to reproduce, please contact peter.stubbs@edinphoto.org.uk
Rev Dr George Reith
Postcard
This portrait is one of several postcard postcards of Reverends published by J R Russell, Edinburgh. It's the only one I've seen in this series taken by photographers, Maclure Macdonald & Co.
The style of this postcard resembles some of the cabinet prints and cartes de visite of the late 1800s.
Other cards that I have seen in this JRRE series have no vignetting, and have a less prominent name of the sitter.
This postcard has not been sent through the post, but has a date written in ink on the back: November 1905.
Question
So far as I am aware photographers, Maclure Macdonald & Co, were not based in Edinburgh, though the name sounds Scottish.
Where were they based?
Answer
Thank you to John Hadden, Edinburgh, for telling me that more details of Maclure Macdonald & Co can be found on the The Glasgow Story web site.
The web site explains:
- Andrew Maclure and Archibald Gray MacDonald set up business as engravers and lithographic printers in Glasgow in 1835.
- The firm also opened offices in Liverpool (1840), London (1845) and Manchester (1886).
- Maclure, MacDonald & Co survived until 1992 when its assets were acquired by J R Reid Printers of Blantyre.
The Glasgow Story web site also has a photograph of Andrew Maclure in his kilt, taken in 1856.
Rev Dr George Reith
Further Details
Thank you to Fiona Paterson, Stonehaven, Aberdeen for telling me more about the subject of this picture.
Fiona wrote:
"At the moment, Woodview Heritage Project is learning about Lord John Reith, 1st Director General of the BBC. Reith was born in Stonehaven, and many of his ancestors came from this area.
Rev Dr George Reith was Minister of the College Church in Glasgow and Moderator of the Free Kirk Assembly. He was also John Reith's father."
Fiona Paterson, Woodview Heritage Project, Stonehaven, Aberdeen: Nov ember 21, 2007