William Hume
Advert
placed in Transactions of the Edinburgh Photographic Society
William Hume was a Scientific Instrument Maker at 1 Lothian Street in the 1890s, advertising regularly in the Transactions of Edinburgh Photographic Society.
1890-91
He advertised his Cantilever Enlarging Apparatus in Transactions of Edinburgh Photographic Society in November and December 1890, and his somewhat cheaper Nimrod enlarger in January to May 1891.
1894
William Hume returned to advertising his cantilever enlarging apparatus in 1894.
Also, in 1894, he advertised the Hume Prize Outfit, a half-plate camera, new rapid rectilinear lens with pneumatic release, folding tripod and waterproof travelling case, for a total cost of £4 15s.
1896
William Hume's Cantilever Enlarging Apparatus was advertised again in 1896, but now without the bellows. See the third advert below.
It was described as fitted for OIL, INCANDESCENT GAS, LIME and ELECTRIC ARC LIGHT. No price was quoted.
Advert - November + December 1890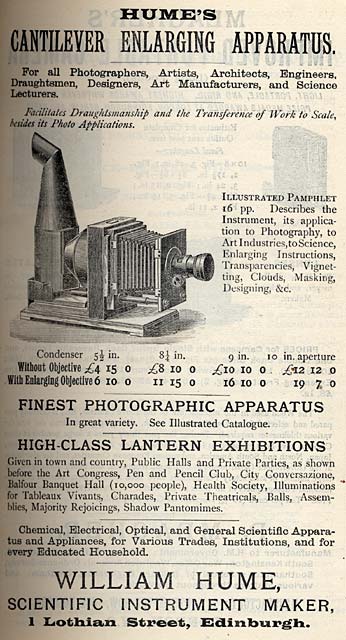 © Reproduced by courtesy of Edinburgh Photographic Society
Advert - January 1891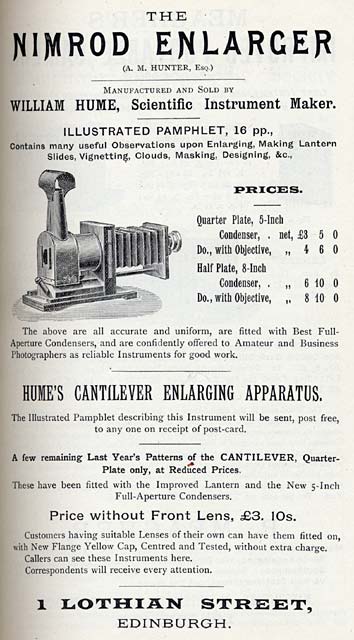 © Reproduced by courtesy of Edinburgh Photographic Society
Advert - 1896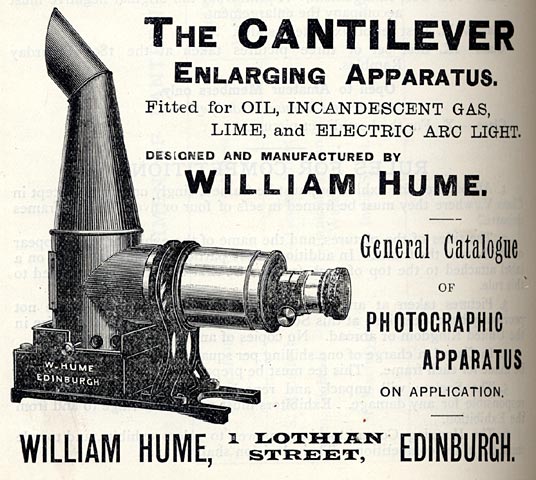 © Reproduced by courtesy of Edinburgh Photographic Society