Postcard issued by
The Order of the Sons of Temperance Friendly Society
Edinburgh Castle
Edinburgh Castle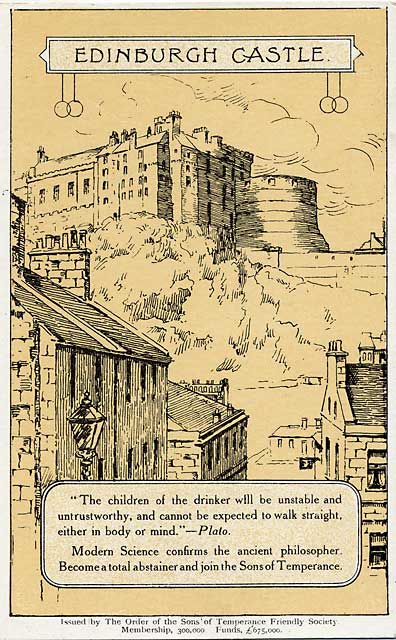 © For permission to reproduce, please contact peter.stubbs@edinphoto.org.uk
Back of the Postcard
© For permission to reproduce, please contact peter.stubbs@edinphoto.org.uk
Edinburgh Castle
Order of the Sons of Temperance
Above is a postcard issued by The Order of the Sons of Temperance Friendly Society - a society whose logo appears on the back of the card with the legend; 'The Society for Men, Women and Children'
The message displayed prominently on the front of the card reads:
The children of the drinker will be unstable and untrustworthy,
and cannot be expected to walk straight, either in body or mind.
Modern Science confirms the ancient philosopher.
Become a total abstainer and join the Sons of Temperance.
This card looks from the south, across the Grassmarket towards Edinburgh Castle.
Question
When was this postcard published?
This postcard has not been sent through the post and is undated, but a little research should give the approximate date that it was issued. The society is described on the front of the card as having a membership of 300,000 and funds of £675,000.
If you can use this information to determine the approximate date of the postcard, then e-mail me with your conclusion, that would be good!
Thank you. - Peter Stubbs
Answer
Thank you to Jim Livingston, Nottinghamshire, who replied
Possibly around 1920
"I have this copy of this postcard in my collection. It also is unposted. However, I have another card the same series. It was posted in 1920."
Jim Livingston, Nottinghamshire, England: February 29, 2008.