James Patrick - Castle Series
"Cauld Blaws the Wind"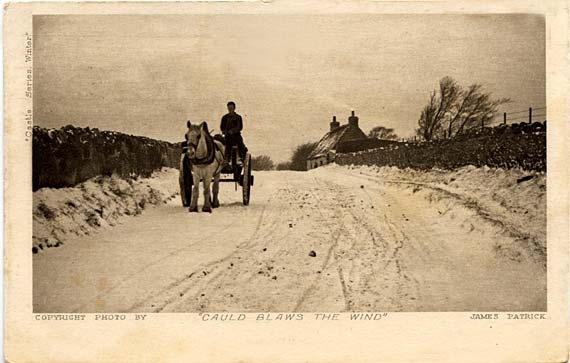 © Copyright: For permission to reproduce, please contact peter.stubbs@edinphoto.org.uk
"Cauld Blaws the Wind"
This card was posted from Edinburgh to Kirkcaldy on 4 February 1907. The message on the back of the card read:
"My Dear A, I hope you are keeping well and escaping all this bad weather. Another snow storm this forenoon. Hoping Ky [Kirkcaldy] has escaped it this time - not nearly so cold now. Kindest regards from all ..."
Question
Most of James Patrick's photographs were taken in or around Edinburgh and Swanston at the foot of the Pentland Hills to the south of Edinburgh.
Does anybody recognise where this photograph was taken?
Reply 1
Thank you to John J Hadden replied:
"Given the title of the postcard I wondered if the wind may give us a clue about the direction of the road.
The trees in the image appear to have a "lean" about them which may be the result of the prevailing wind - from the south-west in the Edinburgh area.
There appears to be smoke rising from the chimney of the cottage in the picture If that smoke hasn't been added by the postcard artist for effect, then perhaps it gives a true indication of the direction of the wind at the time the photo was taken."
John J Hadden: Edinburgh, May 26, 2006
Reply 2
Thank you to Jill Strobridge who replied:
"It may be the small cottage in Harlaw Road between the top of Kirkgate and Wester Kinleith Farm."
Jill Strobridge, Edinburgh, January 7, 2008
This cottage lies just over a mile east of Balerno, and about 7 miles SW of the centre of Edinburgh.
Peter Stubbs: January 7, 2007.
Reply 3
Thank you to Forbes Wilson who replied:
"Having travelled the A702 Edinburgh-Biggar road many times over the years, I believe this photograph is taken some where on the stretch of the A702 to the south of the Pentlands between the A702/A703 intersection and Boghall, or possibly Eater Howgate.
The incline of the road, brow of the hill and slight dip off to the left, coupled with the wind swept trees away from the road and the small cottage is very similar to certain parts of the A702 today on the aforementioned stretch."
Forbes Wilson, near Guildford, Surrey, England, January 9, 2008
Reply 4
Thank you to Bob Henderson who replied:
"There's no way to be sure, but this looks to me like the road at Flotterstone, taken with your back to the hills, looking east out to the main road.
I was up there walking today but did not know about this post or I would have grabbed a pic."
Bob Henderson, Burdiehouse, Edinburgh, January 9, 2008