Links to a few pages on EdinPhoto web site
The Lanni Family
Anchorfield
Leith
The Lanni family at Lindsay Road
Toni Lanni, Mrs Lanni, Mr Lanni, Connie Lanni
Chancelot Mill is being built in the background, in Leith Western Harbour.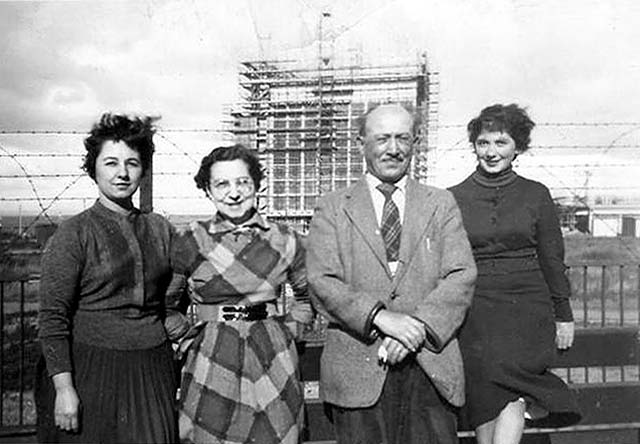 © Reproduced with acknowledgement to Connie Newman (née Lanni), Kent, England: September 26, 2010
The Lanni Family
Lindsay Road
Thank you to Connie Newman (née Lanni) for allowing me to reproduce this photo from her family photo album. This view looks to the north from Anchorfield. Chancelot Mill is being constructed in Leith Western Harbour, in the background.
Connie wrote:
"This photo was taken opposite my father's ice cream shop at 6 Anchorfield, over the bridge from Lindsay Road. There was a sort of promenade that ran all the way down in front of the water. It had seats on it and that is where it was taken.
I used to live at 16 Lindsay Road. Happy days.
Lindsay Road has changed a lot since I lived there. It is now set back. I don't like it!"
A new wider Lindsay Road has been built to the north of the old Lindsay Road, giving a more direct route between Leith and Newhaven. The told tenements are still standing in their old position.
Peter Stubbs: September 26, 2010
"I remember Chancelot Mill being built. It cut across our wonderful view. We lived on the first floor and my room was at the front; it had a wonderful view.
I worked in the office of George Gibson, 64 Commercial Street - now a trendy restaurant! Little did I know, sitting at my desk all those years ago, that I would be back there eating out on a visit to the old hometown, instead of adding up figures!"
Connie Newman (née Lanni), Kent, England: September 26+27, 2010
__________________

Links to a few pages on EdinPhoto web site