Edinburgh Buses
Sighthill Terminus
1950
Sighthill Terminus, Calder Road - Beside the Canal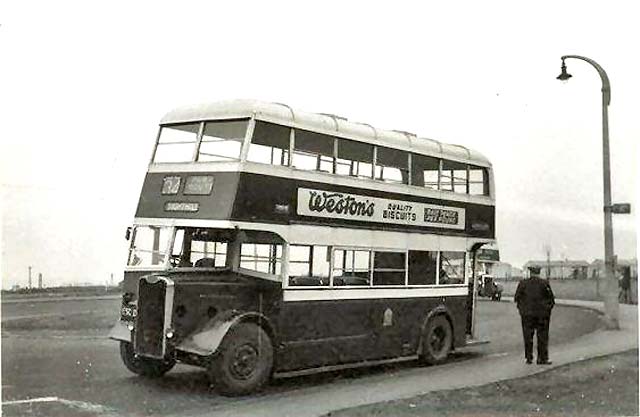 © Reproduced with acknowledgement to Robert Laird, Longstone, Edinburgh Photo taken 1950
Bus Terminus
Calder Road, Sighthill
Thank you to Robert Laird, Longstone, Edinburgh for allowing me to reproduce the the above. I was interested to see the driver or conductor standing beside the buses in this photo.
Sighthill looks rather more rural here than it does today!
Robert tells me that this was taken in 1950.
Robert wrote:
A Job on the Buses
"My dad returned from the World War II, expecting his job with A&J McNabs to have been kept open for him. Alas not.
However, a girl in the office suggested he go down to Shrubhill Depot as they were looking for drivers.
Anyhoo, he did and after a short daunder round Leith in a single decker he was hired!! Things were so much simpler back then.
The Christmas Parties and summer picnics with E.C.T. (Edinburgh City Transport) employees' families remain vivid in my mind. Halcyon days"
Robert added:
The Terminus
"This photo shows the old terminus at the end of Calder Road at the Union Canal. The old pre-fab houses are visible in the background. The photo looks back toward the city form the terminus.
Robert Laird, Longstone, Edinburgh: October 27, 2011 (2 emails)
Reply
1.
Lilian Young
Hamilton Square, New Jersey, USA
Thank you to Lilian Young Hamilton Square, New Jersey, USA for commenting on this photo:
Lilian wrote:
Sighthill Terminus
"My Mom, brother and I lived in the prefabs on Calder Road from 1946 to 1952. We lived between the first and second bus stop after the terminus.
Sometimes, in inclement weather, people would walk to the terminus rather than wait at the bus stop, but the crew would not let anyone board the bus until their break time was over.
When asked why people could not get on the bus until the crew had completed their break, the crew indicated that if a bus company inspector came by and saw people waiting on the bus the crew could be fired.
In those days each bus had a driver and a conductor. The amount of time for the break depended on when the bus got to the terminus, and if it was late the crew had to make an immediate turnaround in order to keep to the schedule."
Prisoner of War Camp
"Close to the terminus on the opposite side of Calder Road from the prefabs there was a prisoner of war camp. The prisoners lived in Nissan huts."
Lilian Young, Hamilton Square, New Jersey, USA