Edinburgh Airport
Six miles to the west of the centre of Edinburgh
AeroSpacelines Super Guppy at Edinburgh Airport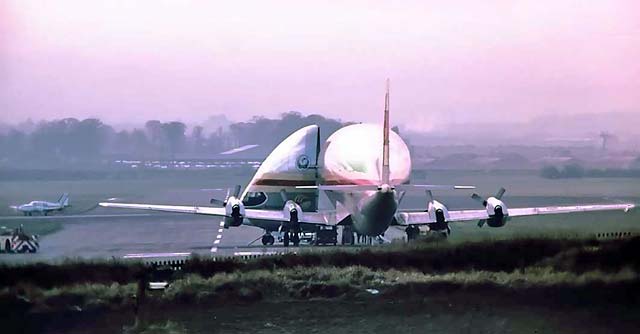 © Rotherham, South Yorkshire, England Photo taken: around 1973
AeroSpacelines Super Guppy
Thank you David Bain, Rotherham, South Yorkshire, England, for sending me this photo taken around 1973 at Edinburgh Airport.
David wrote:
Around 1973
"This aircraft is an AeroSpacelines Super Guppy. It was based on a Boeing Stratocruiser but with a vastly enlarged fuselage to carry large items such as aircraft components.
The photo was taken from the Maybury to Kirkliston Road."
David Bain, Rotherham, South Yorkshire, England: December 1+3, 2011