Family Photos
"I was going through some old photos left to my children by their grandmother who grew up in Edinburgh on Starbank Road.
I found Photo 2 below. It includes her grandmother on the right, dressed in fisher woman's choir costume.
I never knew how my mother in law grew up. What an amazing lifestyle they had back then!"
? Ann Flucker Ramsay? Elizabeth Logan Seaton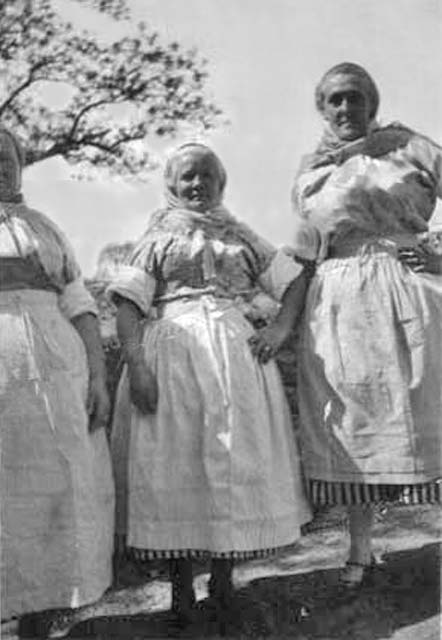 © Reproduced with acknowledgement to Margaret Wallace, near Newhaven, Edinburgh:
Jean Ramsay Ann Flucker Ramsay
Fishwife on the Right
"If I'm correct, the lady on the right in Photo 2 is the same lady as is in the middle in Photo 1, Ann Flucker Ramsay."
Fishwife on the Left
"The lady on the left of Photo 2 is identified on the back of the photo as being 'Jean'. I assume that she is Jean Ramsay, wife of Raeburn Ramsay, the son of Ann Flucker Ramsay (above)."
Kathleen Fehrman, Stockbridge, New York, USA: October 8 + 19, 2014