Royal Botanic Garden
Inverleith, Edinburgh
Late- C19 / Early-C20 ?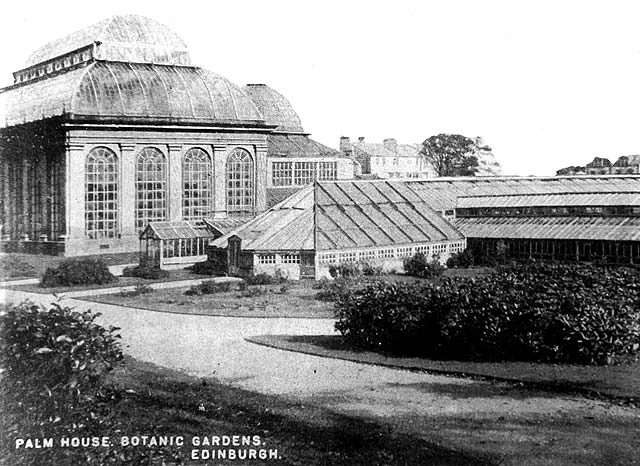 © Reproduced with acknowledgement to Chris Douglas, Manager of The Orchard Bar, Howard Place, Canonmills, Edinburgh
who found these photos, and to Allan Dodds, Nottingham, Nottinghamshire, England for telling me about them..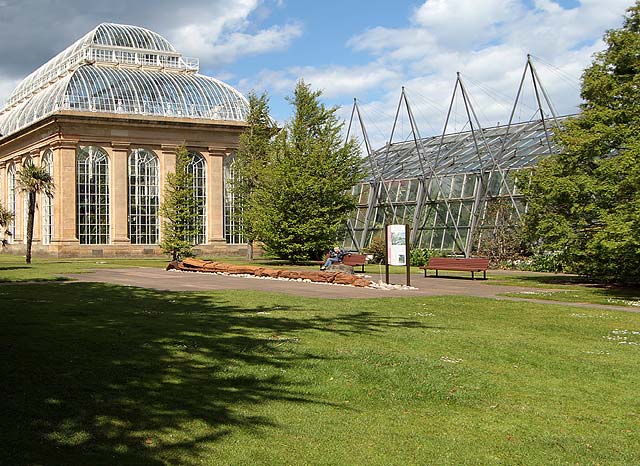 © Copyright: Peter Stubbs - please contact peter.stubbs@edinphoto.org.uk Photo taken May 31, 2011
late-19th century?

©

2011
Royal Botanic Gardens
Old Photos
Thank you to Chris Douglas, Manager of The Orchard Bar, formerly Northern Bar, Canonmills, Edinburgh, for allowing me to reproduce this photo and other old photos of Edinburgh. Chris recently found these photos in the basement of The Orchard Bar.
Date of the Old Photo?
The old photo would have been taken some time between 1858 (when the palm house in the background opened) and 1914. (Please see reply 1 below for explanation).
I realise that is a rather wide time span; perhaps somebody can help to narrow it down.
Recent Photo
This recent photo was taken in may 2011. The greenhouses on the right are the Exhibition Plant Houses, opened in 1967.
Lying on the ground in the centre of this photo is the fossil of an old tree.
A large sign reads:
This is Britain's Biggest plant fossil!
It was discovered about a mile from here at Craigleith Quarry, now the site of a retail park. Pitus withami grew in swamp forests during the Carboniferous era 320-340 million years ago.
Judging by the size of the petrified trunk here, it must have been a very large tree. Unfortunately, it has no close living relatives, so we don't know how tall it could grow, or whether it produced seeds.
Behind is the fossilised root of a Lepidodendron or scale tree, which could grow to 45 metres, about twice the height of the Palm House on your left.
Its only living relatives are the small, trailing clubmosses native to Scotland, northern Europe and North America.
Pitus liked drier ground, but Lepidodendron didn't mind getting its feet wet. As the climate changed towards the end of the Carboniferous period and the swamps dried up, Lepidodendron died out. Why Pitus became extinct remains a mystery.
A smaller sign reads:
PLEASE DO NOT SIT OR CLIMB ON THIS ANCIENT FOSSIL
Thank you for your cooperation
Reply
1
Graham Hardy
Edinburgh
Thank you to Graham Hardy who wrote:
Old Photo
Palm Houses
"The large palm house in the old photo (left) opened in 1858
The smaller palm house behind it (top-centre) opened in 1834"
Glasshouses
"The lower glasshouses (right) would have been built well before 1856. This photo of them, taken in 1854 with the roofs in rather dilapidated condition, appears in the book 'The Royal Botanic Garden, Edinburgh - 1670-1970. (Plate VII a).
These glasshouses were remodelled by MacKenzie & Moncur over the period 1890-1914."
1890 to 1910?
"Leone Patterson, Archivist at Royal Botanic Gardens, Edinburgh suggests that one way to help date the old photo is to know when the skirts on the Octagonal Palm House (1834) were removed.
Unfortunately, we do not have this date to hand, and so a date between 1890-1910 is probably as close as we can get."
Graham Hardy, Library, Royal Botanic Garden, Edinburgh: June 1, 2011.