St Leonard's District Photos
Photo 23
zoom-in: CENTRE
East Crosscauseway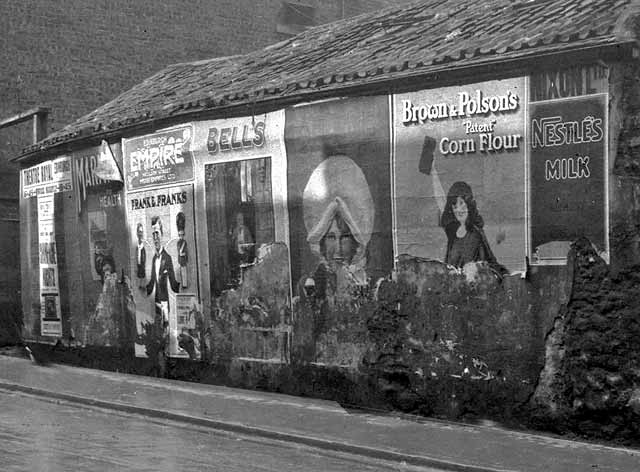 © Reproduced with acknowledgement to David Gordon, Old Town, Edinburgh
St Leonard's District - 1920s
Which Street?
Do you recognise this street?
The name 'Nixon Ltd' appears at the top right hand corner of the adverts.
At first, I thought this might have been the owner of the building and that this might have helped me find the location of this photo.
However, this was not the case. The 1930-31 edition of the Edinburgh & Leith Post Office Directory lists 'Nixon Ltd' as:
"Billposters and Advertising Contractors, 25+27 Elder Street"
Collection of Photos
The image above is taken from a collection of whole-plate negatives. The photos were probably taken around the 1920s.
If you recognise this street, please email me.
Thank you. Peter Stubbs: July 6, 2008
Answer 1
Thank you to Bryan Gourlay, Biggar, Lanarkshire, Scotland who wrote:
Where?
"This photo is different in that it is going up hill in what is a relatively flat area apart from the Pleasance. The surface also has a light tarmac covering similar to Photo 14 of the Pleasance.
You might be able to pin it down from the trade directories for the straw and hay shop – probably Louden?"
Bryan Gourlay, Biggar, Lanarkshire, Scotland: July 10, 2008
Answer 2
Thank you to John Hadden, Edinburgh, who wrote:
East Crosscauseway
"I think this is the north side of East Crosscauseway, viewed from the East end.
Whatever that business is, just off the right edge of the picture, they may be located at the South end of Pleasance, so perhaps may be found in a trade directory?"
John Hadden, Edinburgh: July 10, 2008
More Answers
For more answers, including the identification of this street, please click on the thumbnail image below:
1891 Maps
East Crosscauseway can be found in the lower-right corner of the South Side map and towards the upper-left corner of the St Leonard's map below