Forthquarter Park
A new park under construction at Waterfront, Edinburgh
View of Granton Gasholder from Forthquarter Park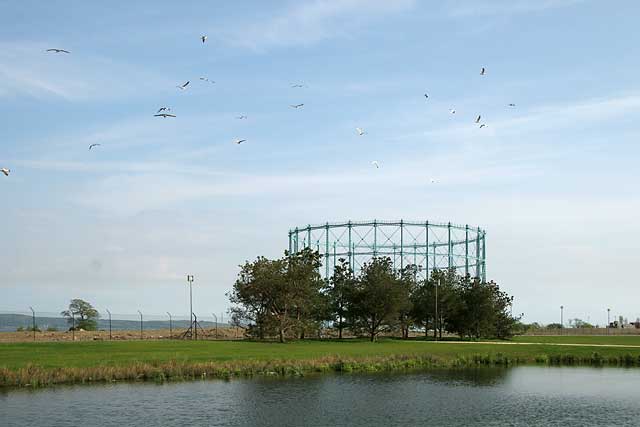 © peter.stubbs@edinphoto.org.uk Photograph taken: May 6, 2006, 10.38am
Forthquarter Park
Edinburgh Waterfront
A new park, Forthquarter Park, is being built at Edinburgh Waterfront to the north of the new Telford College complex on a strip of land running to the west from a point close to the new Scottish Gas Headquarters.
The Park
The park includes:
- a quarry pond with viewing platform for observing wildlife. The pond was previously used by Scottish Gas to provide a source of water for use in the event of a fire.
- a section of Granton Burn, a stream that used to run through the site in a culvert, but has now been opened up. Granton Burn continues under the road then through the grounds of Caroline Park to the Firth of Forth.
- newly planted mature trees and plants, cycle and walking routes, including new timber broadwalks.
Not Yet Open
The park is currently, at May 2006, part of the Waterfront Development Site, so has not yet been open to the public - except for a single day for Edinburgh Parks & Gardens Open Day on May 6, 2006.
The park is expected to be opened to the public during 2006 or 2007.