John Knox House
High Street
Part of Edinburgh's 'Royal Mile'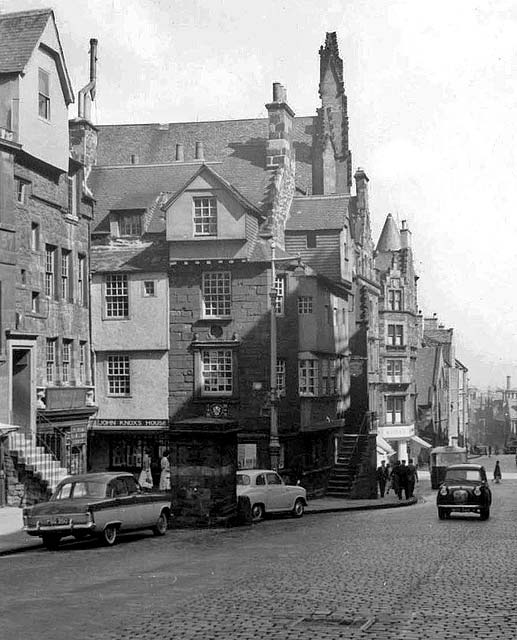 © Reproduced with acknowledgement to Al Lorentzen, Inverness, Illinois, USA Photo taken: 1960
John Knox House
Thank you to Al Lorentzen for allowing me to reproduce this photo that he took in 1960.
Al wrote:
1960
"Look at the lack of vehicular traffic. I remember hundreds of bicycles making their appearance on these roads when work was done at the end of the day."
Al Lorentzen, Inverness, Illinois, USA: October 7, 2010
Industry
Yes, Al. There was once a lot of brewing and other industry near here. A chimney at Holyrood can be seen in the background on this photo.
Vehicles
I noticed that the vehicles all seem to have been built in Britain. That looks like a couple of small Austins and is it a Ford Zephyr or Zodiac?
I like the little single decker bus heading down the Royal Mile towards Holyrood, possibly on Route 1.
Peter Stubbs: October 8, 2010
Bryan Gourlay
Biggar, Lanarkshire, Scotland
Thank you to Bryan Gourlay who replied:
Reply
"I think that the car in this photo is a Zodiac Mark II. The two-tone paintwork, rear bumper, elaborate rear-end styling and white sidewall tyres distinguish it from a Zephyr."
Bryan Gourlay, Biggar, Lanarkshire, Scotland: October 24, 2010