Northern General
Hospital
Ferry Road, Edinburgh
Around 1990?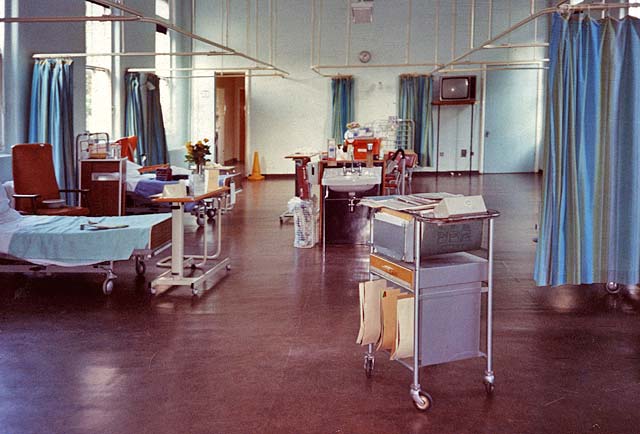 © Reproduced with acknowledgement to Callum Hind, Crewe Toll, Edinburgh
Northern General Hospital

History of the Hospital Site

The Northern General Hospital was on the north side of Ferry Road, between Crewe Toll and Goldenacre. It closed probably in the mid-1990s. **

I took some photos of the hospital being demolished in 1996. A Safeway supermarket was built on the site.

This later became a Morrisons Supermarket.

** See also 'Reply 1' below

Photos

Thank you to Callum Hind for allowing me to reproduce the photograph above taken at the Northern General Hospital, possibly around 1990. This is one of a collection of Northern General photos that were found by Callum Hind, in July 2011, at the Western General Hospital.

Below are are more photos from the same collection. If you recognise any of the poeple in these photos, or can suggest who might have taken them, please email me. Thank you.

Acknowledgement: Callum Hind, Crewe Toll, Edinburgh: July 3+7, 2011
Reply
1.
Susan McIntyre
Edinburgh
Thank you to Susan McIntyre who wrote:
Closure of Northern General Hospital
"The Northern General Hospital finally closed in November 1996. Wards 1,2,3 4 and 6 had closed by then, leaving just Ward 5 (geriatrics).
9/10th of the site was sold to Safeway. The remainder became the site of Ferryfield House for NHS continuing care patients."
Susan McIntyre, Edinburgh: February 3, 2012