Princes Street Shops
2010
Shops between Frederick Street and Hanover Street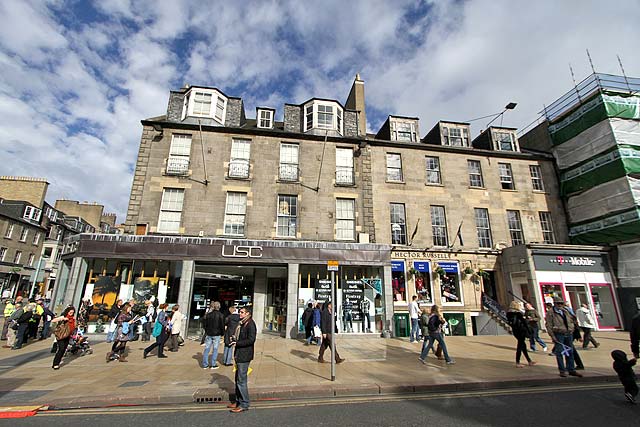 © Copyright: Peter Stubbs - please contact peter.stubbs@edinphoto.org.uk Photo taken: September 16, 2010
Princes Street Shops
View from the Centre of Princes Street
This is one of a series of photos that I took photo on September 16, 2010, the day that the Pope visited Edinburgh. There was no traffic travelling along Princes Street, but the north side of the street and Princes Street Gardens were 'out of bounds', so I took these photos looking up to the shops from the centre of the street.
The shops at these addresses have been (left to right):
2010

1970

1950

98

USC
Clothing

Scottish Daily Mail
Newspaper

97

R Marcus
Furriers

See Reply 1 below

96

The Gift Shop
Tartans, souvenirs

95

Hector Russell
Clothing

William Shiel

RAF Information Bureau

Tartan Gift Shop
Kilts

Tartan Gift Shop
Kilts

94

T Mobile
Phones

Bank of Scotland
Bank

Bank of Scotland
Bank
Reply
1.
Bryan Gourlay
Biggar, Lanarkshire, Scotland
Thank you to Bryan Gourlay for telling me that I had omitted R Marcus, Furriers, from the 1950 list above. (I've now added it to the list.)
Bryan wrote:
R Marcus
"I am curious as to why there is no mention of Marcus Fur Shop for 1950, about where USC is now. It had the Three Bears on top for a few decades. **
These bears were removed around 1963. I seem to recall a Salisbury's bag and suitcase outlet there after the demise of fur trading.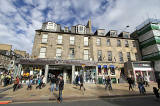 ©"
Bryan Gourlay, Biggar, Lanarkshire, Scotland: September 20, 2010
** Brian previously wrote about his memories of R Marcus' shop in the 'Princes Street Recollections' section of this web site.