Edinburgh
Quartermile
New Developments
Formerly part of the old Royal Infirmary of Edinburgh, Lauriston Place
Now part of the new Edinburgh Quartermile development.
1.
New Development
near the western edge of the former ERI site at Lauriston Place
A colour photo!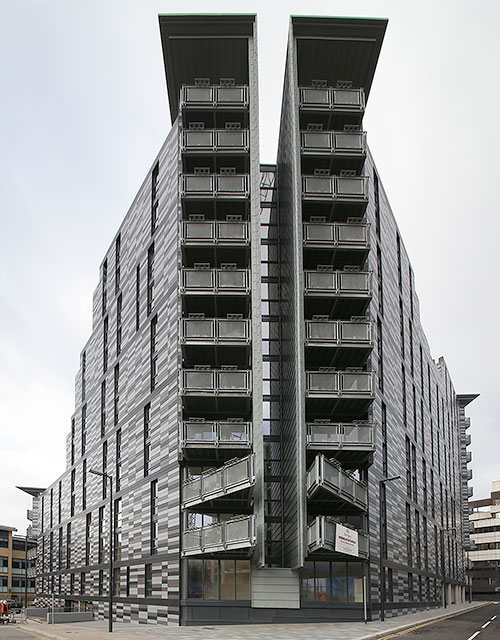 © Please contact peter.stubbs@edinphoto.org.uk Photo taken October 14, 2013
2.
New Development
near the western edge of the former ERI site at Lauriston Place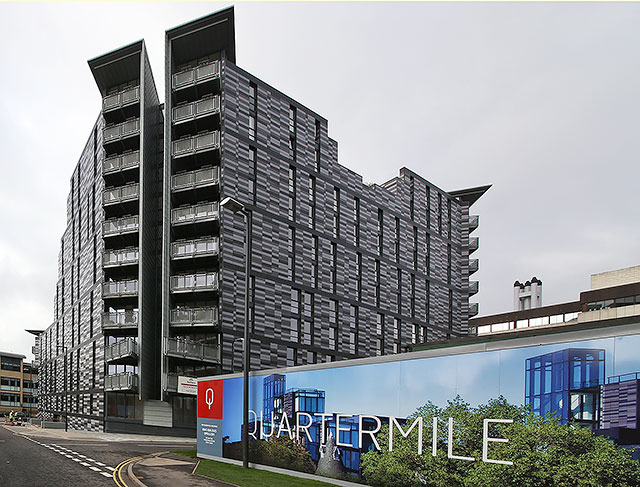 © Please contact peter.stubbs@edinphoto.org.uk Photo taken October 14, 2013
Quartermile
ERI Move to Little France
Edinburgh Royal Infirmary (ERI) moved from their site at Lauriston Place to a newly-built hospital at Little France in the SW of Edinburgh in 2005.
Aerial View of the new Edinburgh Royal Infirmary at Little France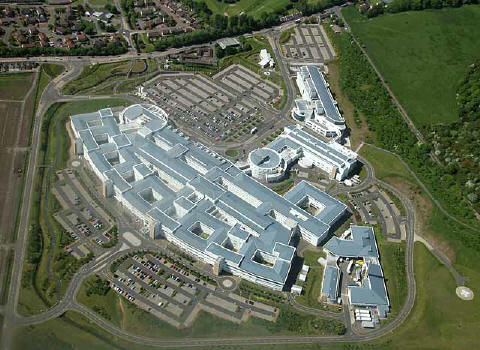 © Please contact Peter.stubbs@edinphoto.org.uk Photograph taken: 3 June 2006, 11.36am
Refurbished Buildings
The old site was then redeveloped for office, retail and residential use. Some of the old buildings were refurbished including Jubilee Pavilion which now provides housing and has been renamed, Jubilee Hall.
Looking up at Jubilee Hall from across the street through a wide-angle lens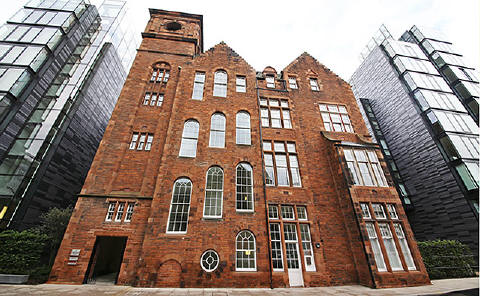 © Pease contact peter.stubbs@edinphoto.org.uk Photo taken October 14, 2013
New Buildings
Many new buildings have been built and are now in use, including several on the south side of the site.
Photos 1 and 2, at the top of this page, are of a new building nearing completion near the western edge of the old ERI site.
Despite its monochrome appearance in these photos, this is the true colour of the building. These are coloured photos as can be seen from the figure at the bottom-left corner of Photo 1 and the hoarding on the in the lower-right corner of Photo 2.
Reply
1.
Henry (Hank) Kaczynski
Annapolis, Maryland, USA
Henry Kaczynski wrote:
New Buildings
"Iíve been meaning to comment on some of the new buildings in Edinburgh for a long time.
Those in the Quartermile development take the award for absolute ugliness. I just found the ultra-modern designs so out of character for Edinburgh.
Here, in the Annapolis Colonies, first settled in the 1600s, they try to maintain the colonial, traditional look. We do have some modern constructions, but they donít look like something in a science fiction movie.
I hope you donít mind comments from a foreigner who loves Auld Reekie."
Henry (Hank) Kaczynski, Annapolis, Maryland, USA: December 22, 2013
Reply
2.
Mike Cheyne
London, England
Mike Cheyne added:
Old and New Buildings
"I wholeheartedly agree with Hank regarding the new buildings in the Quartermile Development. They are so ugly and devoid of character, especially when you see them adjacent to the original Royal Infirmary buildings which have been sympathetically restored.
I realise architecture is such a personal thing. One either likes a building or one does not. And I have no axe to grind: some modern buildings I love. For example, the Gherkin building in London is beautiful."
Edinburgh Council
"It does not surprise me that the Quartermile travesty passed planning permission. Edinburgh council has long been notorious for paying scant regard to the beauty of their city.
For example, the council very nearly approved a hideous plan in the late-50s/early-60s to build urban motorways through the centre of the city, much like the one that ruined cities like Glasgow and Newcastle. When will they ever learn?"
Mike Cheyne, London, England: December 23, 2013
Reply
3.
Allan Dodds
Nottingham, Nottinghamshire, England
Thank you to Allan Dodds for expressing a different view about the buildings on the site at Quartermile.
Allan wrote:
Social Housing
"I can understand Henry's alarm and dismay (in his Reply 1 above) at the monochrome buildings you photographed.
Those are the social housing flats that Edinburgh City Council insisted be built on the Quartermile site before they gave permission for the stunning (nay, shocking) Norman Foster development which I've grown to love over the years as a regular visitor to Edinburgh.
The social housing comprises several hundred properties and admittedly does detract aesthetically from the rest of the high quality development, although they are on the edge of the site and more 'Tollcross' than 'George Square'.
Vibrant Community
"I have to say that I've been impressed by the vibrant community that has sprung up at Quartermile, and I could even be tempted to move back to my beloved Edinburgh from Nottingham where I have lived for over thirty years as Quartermile is a most attractive area to live in - an oasis of tranquillity in a bustling city, with its proximity to the University buildings and the Meadows; not to mention Sandy Bell's in Forest Road!"
Awards
"In spite of the new buildings, or perhaps because of them, depending on your taste, Quartermile has won numerous architectural awards and it represents the largest housing development in Scotland at a time when there is a serious shortage of housing in the UK."
The Future
"The new owner of the site has committed £170 million towards its completion of Quartermile. It is due to be completed in 2017.
Trams will be old hat by then and accepted every bit as much as Quartermile will be."
Allan Dodds, Nottingham, Nottinghamshire, England: December 24, 2014