Edinburgh Transport - Railways
Near
Granton Road Station
Near Granton Road Station - 1962 Railtour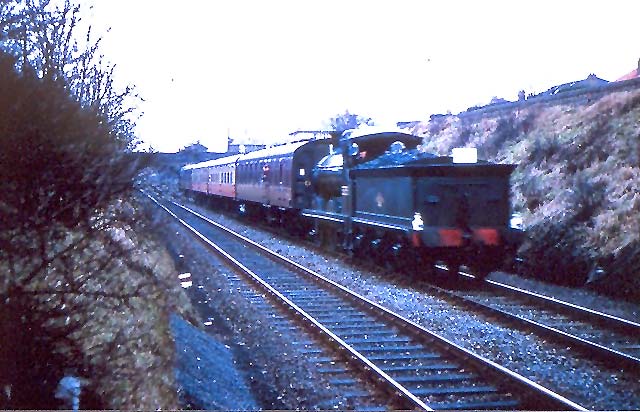 © Reproduced with acknowledgement to Alistair MacBeath, Granton, Edinburgh Photographer not known
Near Granton Road Station
Thank you to Alistair MacBeath, Granton, Edinburgh for allowing me to reproduce this photograph of a train on the Caledonian line near Granton Road station.
Alistair wrote:
The Photo
"Here is a photo taken from a 35mm slide that I recently bought on eBay. It came from a private collection. The photographer is not known. On the slide was written:
'Caley CL 3F On Railtour at Granton Road - 1962'.
Looking at the rolling stock there seem to be at least three different carriage types. It's rather intriguing. I wonder what the 'tour' was about."
Alistair MacBeath: February 3, 2010
The Railtour
If you know anything about this Railtour, please email me then I'll add the details to this page and send a message to Alistair MacBeath to let him know.
Thank you. - Peter Stubbs: February 26, 2010
Recollections
1.
Douglas Beath
Tasmania, Australia
Thank you to Douglas Beath who wrote:
Excursion
"I was on many railtours during 1958-63. In Scotland, most were organised by the Stephenson Locomotive Society or the Branch Line Society, and drew participants from nationwide.
The tour in the photograph above may have been this one for which the ticket declares: ***
"2nd class DAY EXCURSION
25th Aug 1962
STEPHENSON LOCOMOTIVE SOCIETY
EDINBURGH (WAVERLEY)
to
EDINBURGH (WAVERLEY)
Tour over closed lines in Edinburgh Area"
'Closed' meant closed to regular passenger trains."
Douglas Beath, Tasmania, Australia: February 28, 2010
*** No. In fact it was a different tour.. See below
Update to
Recollections
1.
Douglas Beath
Tasmania, Australia
After reading 'Recollections 2' below, Douglas Beath wrote:
"I was so wrong in my 'answer above.
My assumption that the photograph near Granton Road Station related to the ' Waverley to Waverley via Edinburgh area' ticket was unwarranted.
The number of railtours, as seen on the Six Bells Junction website, is quite breathtaking."
Douglas Beath, Tasmania, Australia: March 5, 2010
Recollections
2.
Alan Grieve
Minehead, Somerset, England
Thank you to Alan Grieve who wrote, giving me a link to a useful web site, Six Bells Junction. This site gives details of many rail excursions in Britain from 1887 to date (including the rail excursions in Scotland in 1962).
It shows that the excursion on 25 August 1962 visited Leith but not Granton Road Station.
However there was an excursion a few months earlier, on 3 February 1962 that did pass through Granton Road Station.
'Farewell to Peebles'
"I reckon that the tour you are looking for was probably the Stephenson Locomotive Society (Scottish Area) Railtour titled 'Farewell to Peebles - A Pleasant Railway Byway'.
The tour took place on 3 February 1962. Details of this tour can be found on the Six Bells Junction* web site. This tour was booked for a class J37 0-6-0, plus possible class 3F ex-CR 0-6-0 on the Leith North branch."
* Alan advises: On the Six Bells Junction web site, click on 'The Railtour files', second item on the left hand side, then click on 1962 which will bring up a list of railtours in 1962. Fifth from the bottom is 3 February 1962.
Railtour
3 February 1962
Edinburgh Princes Street, Dalry Jn, Coltbridge Jn, Murrayfield, Craigleith, Crew Jn, East Pilton Halt, Granton Road, Newhaven, Leith North
Leith North, Newhaven, Granton Road, East Pilton Halt, Crew Jn, Craigleith, Murrayfield (2
Craiglockhart Jn, Morningside Road, Duddingston Jn, Niddrie West Jn, Niddrie South Jn, Millerhill, Glenesk Jn, Hardengreen Jn, Rosslynlee, Leadburn, Eddleston, Peebles, Cardrona, Innerleithen, Kilnknowe Jn, Galashiels
Galashiels, Kilnknowe Jn, Stow, Fountainhall Junction, Heriot, Hardengreen Jn, Glenesk Jn, Millerhill, Niddrie North Jn, Portobello West Jn, Piershill Jn*, Edinburgh Waverley
(1) Route confirmation required. The above is extrapolated from the limited booked timings supplied.
(2) At least one reversal appears required somewhere between Murrayfield & Morningside Road (Slateford?).
There were a few '?????'s in the above list. I don't know what they indicated, so I have omitted them.
Timings

Location

Booked

Edinburgh Princes Street

12.53d

Granton Road

13.05a ~ 13.10d

Leith North

13.15a ~ 13.53d

Murrayfield

14.04 ~ 14.09

Morningside Road

14.34 ~ 14.59

Rosslynlee

15.27 ~ 15.32

Rosslynlee Hospital Halt

15.35 ~ 15.40

Pomathorn Halt

15.45 ~ 15.50

Leadburn

15.56 ~ 16.01

Eddleston

16.09 ~ 16.14

Peebles

16.20a ~ 16.48d

Cardrona

16.54 ~ 16.59

Innerleithen

17.04 ~ 17.09

Galashiels

17.29a ~ 18.20d

Edinburgh Waverley

19.16a
Alan Grieve, Minehead, Somerset, England: February 28, 2010
Details taken from Six Bells Junction web site. Source: John Debens