Looking down on
Edinburgh Waverley Station
from the Scott Monument in Princes Street Gardens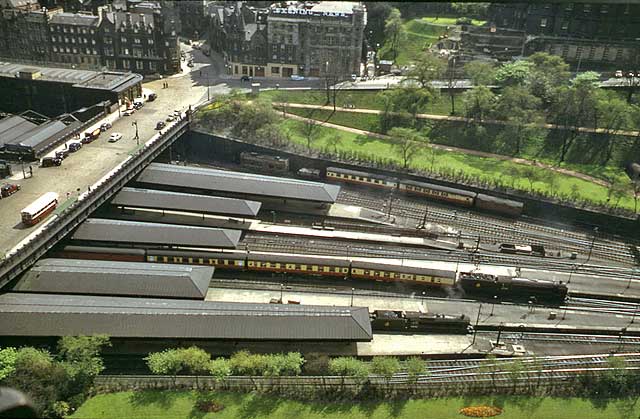 © Oliver Leach, Edinburgh
Edinburgh Waverley Station
Here we look down from the Scott Monument to Waverley Bridge and Waverley Station.
Just one single-decker bus can be seen on Waverley Bridge. Today Waverley Bridge is the departure point for buses to Edinburgh Airport and Edinburgh's open-top tour buses.
This photo was taken in the later days of steam on British Railways, perhaps some time around 1960.
Acknowledgement
Thank you to the family of Oliver Leach for allowing me to reproduce some of Oliver's colour slides on the EdinPhoto webs site, including this photo looking down on Waverley Station from the Scott Monument
Reply
1
Phil Wilson
Aberdeen, Aberdeenshire, Scotland
Thank you to Phil Wilson who sent the comments below.
I agree that Phil's comments. His suggestion of 'about 1952-53' looks to be more accurate than my suggestion of 'perhaps around 1960' above.
Early 1950s
"It's always difficult to date photos within a few years where the actual date isn't known, but I think this photo is actually older than 1960, mainly because all the cars in the shot seem to be either 1940s or early 1950s, and the lorries and vans look decidedly older too.
New car types appeared rather quickly as they do now, at least after about 1956, and by 1960 Triumph Heralds, Vauxhall Veloxes and Ford Consuls tend to appear in many shots, as well as the old standby, the 1953 Ford Popular/Prefect 100E.
Overall my feeling is that this shot dates from about 1952-53 or so. However someone who knows trains might be able to narrow it down from the locomotives visible in the shot.
I may be quite wrong though. In any event it's a nice photo. These early colour shots of Edinburgh are great."
Phil Wilson, Aberdeen, Scotland: April 15, 2009
Reply
2
Patrick Hutton
New Town, Edinburgh
Thank you to Patrick Hutton who wrote:
Early-1950s
"The photo of Waverley Station from the Scott Monument is almost certainly early-1950s. Both locomotives (the nearest is a 'Black 5' and the other is ex-LNER Pacific, probably an A1) have the early-period BR logo (ferret and dartboard).
There seems to be some construction work on-going beside the Bank of Scotland on the Mound. Perhaps this might date the photo quite closely?"
Patrick Hutton, New Town, Edinburgh: April 17, 2009
Reply
3
Eric Gold
East End, London, England
Thank you to Eric Gold who wrote:
Early-1950s
"I looked at the photo in great detail and I agree with Patrick who said the photo was taken in the 1950s. Just look at the engines and rolling stock, and the taxi and cars.
Also, look at the Evening News offices at the bottom of Cockburn Street. The News people moved from there into the Scotsman building in the late-1950s, I think."
Eric Gold, East End, London: April 18, 2009
Reply
4
David Forman
Thank you to David Forman who wrote:
The Bus on Waverley Bridge
"In the book, 'Edinburgh's Transport - The Corporation Years' by DLG Hunter, page 173 identifies the bus on Waverley Bridge as:
- Leyland Royal Tiger, rear entrance: Fleet No 801, or
- Leyland Olympic, rear entrance: Fleet No 802."
Early-1950s
"Both were purchased in 1951 and rebuilt as front entrance in 1955. Someone with a better knowledge of Edinburgh City Transport can possibly say which bus is in the picture.
This dates your picture to the early-1950s."
David also looked at other photos on the web site and added
Granton Square
"One of the buses (801 or 802) also appears in this 1955 photograph of Granton Square:
David Forman: April 23, 2009