Edinburgh Transport
Waterloo Place
Looking to the East End of Princes Street
and the junction with Leith Street
The last remaining section of Cable Car track in Edinburgh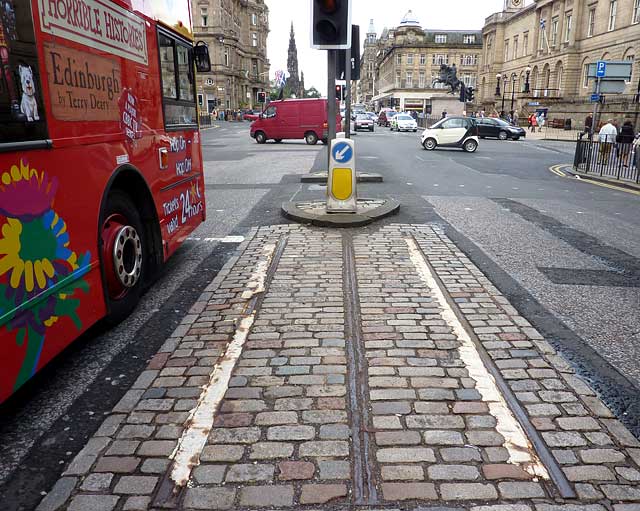 © Richy Middlemiss, Edinburgh
Waterloo Place
Cable Car Track
Thank you to Richy Middlemiss for allowing me to reproduce this photograph of a short section of cable car track still in position in the centre of Waterloo Place, close to the East End of Princes Street and the junction with Leith Street.
The last route to be converted from cable car to electric tram was the Waterloo Place to Joppa Route, on June 23, 1923.
Princes Street
This view looks to the west along Princes Street from the west end of Waterloo Place. An open-top bus is waiting at the traffic lights before it enters Princes Street.
- The Scott Monument can be seen behind the red van crossing Princes Street.
- Steele's statue of the Duke of Wellington on his horse can be seen behind the small Smart car crossing Princes Street.
Richie Middlemiss, Edinburgh: July 24, 2009
Recollections
1.
Stuart Burgess
Devon, England
Thank you to Stuart Burgess who wrote:
Tin Can
"My father, who was born in 1896, talked about the cable cars and how as boys he and his chums would drop a string attached to a tin can in the centre slot to catch the cable, then watch the can rattling along the road until (I suppose) the string snapped.
How the string was caught by the cable was never made clear to me. He also said that the cables were always breaking, but I don't suppose their prank contributed to that!"
Stuart Burgess, Devon, England: September 4, 2009