Links to a few pages on EdinPhoto web site
Craigmillar Primary School
The Cooking Centre
Early-1960s
Staff at 'The Cooking Centre'. Craigmillar Primary School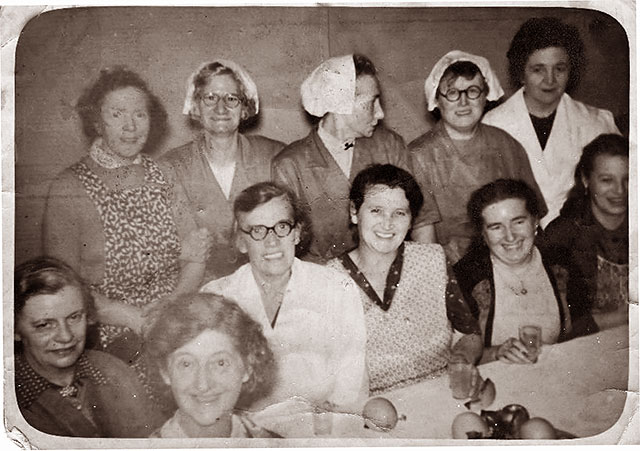 © Reproduced with acknowledgement to Mandy Fahey (née Jennings), Canada Photographer: not known Photo taken; 1960s
Comment
1.
Mandy Fahey (née Jennings)
Canada
Thank you to Mandy Fahey, (née Jennings), for allowing me to reproduce this photo.
Mandy wrote:
'The Cooking Centre'
"My grandmother, Sadie Black, is 3rd from the right in the front row of this photo - the one with the dark 'v-shape' at her neck.
The photo was taken when she worked at 'The Cooking Centre' at Craigmillar Primary school from the early-1960s until she retired in the early-1970s and moved to Gracemount, Edinburgh.
I'm afraid I don't know any of the other people in the photo. It would be good if someone recognised a family member and this puzzle pic could be put together.
Mandy Fahey (née Jennings), Canada: October 7, 2013
Who Else is in the Photo?
If you recognise anybody else in this photo, please email me to tell me, then I'll add their names to this page.
Thank you.
Peter Stubbs, Edinburgh: October 7, 2013
__________________

Links to a few pages on EdinPhoto web site