Royal High School
Rugby Team
1958-59
Royal High School - First XV - 1958-59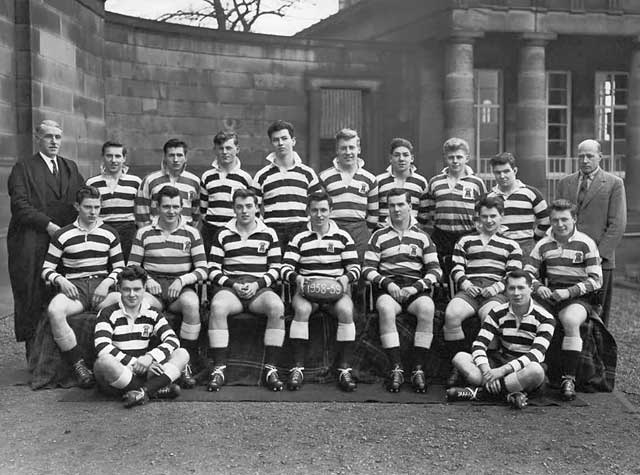 © Reproduced with acknowledgement to Royal High School Edinburgh
This photograph appeared in the school magazine, Schola Regia, in 1959.
Polton Farm
Owner: Willie Pringle
For several weeks, Matt Rooney, now living in Ayrshire, Scotland, has been attempting to discover more about these early photographs of Polton Farm near Edinburgh.
Matt used to visit the farm as a child.
RHS Rugby Player
James W Pringle
Brian Gourlay, now living in Biggar, Lanarkshire, Scotland wrote:
"I've been reading the developing story of Polton Farm with great interest, particularly now that Matt Rooney has mentioned the farm owner was Willie Pringle.
A classmate of mine at the Royal High School between 1954 and 1960 was a James W Pringle who came for Polton. If my memory serves me well, he lived at Polton Farm and I think he was maybe the farmer's son (his middle initial could well be for William). He was never called James, or Jim or Jimmy. Throughout his entire time at school, he was always just known as 'Polton'.
James Pringle certainly lived at Polton, as he used to get off the bus at the Polton road end with Lasswade Road, when we returned from playing rugby against the Borders' schools.
As I recall, 'Polton' was a pretty good, swift winger. He is the second player from the left in the back row of this 1958/59 Royal High 1st XV photo."
Bryan Gourlay, Biggar, Lanarkshire, Scotland: May 31, 2006
Teacher
Phil Wilson
Thank you to Phil Wilson, Aberdeen, who wrote:
"The bald teacher on the right in Bryan Gourlay's team photo is 'Curly Bill' Mitchell. He had a very tall son, David, with a shock of golden-fair hair."
Phil Wilson, Aberdeen, Scotland: January 15, 2007
Rugby Team Photo
David Webster wrote:
Watson Pringle
"My clear recollection is that James Watson Pringle was never really known as James. He always went as 'Watson Pringle'.
I can also identify others in the photograph of the Royal High Rugby Team that includes Watson Pringle.
Rector, Dr Imrie
On the left side, when looking at the photo, is the Rector of the School, Doctor Imrie
Curly Mitchell
On the right is 'Curly Mitchell', Head of PE - Royal High School at Regent Road. His nick name was well known around the school and he was also well titled for that shiny bald patch.
If you were ever asked to report to Curly's room for some misdemeanour, it was more than likely you would 'get the slipper' - he stood no nonsense.
He kept himself very fit and could be seen most days running about the school in his track suit and gym shoes! (no designer trainers in those days) and was an example to many of us on fitness.
He played regularly in the annual Masters Rugby Team against the boys at Jock's Lodge. There were many issues addressed during these games!
David Webster: December 25, 2009