Towerbank School
Portobello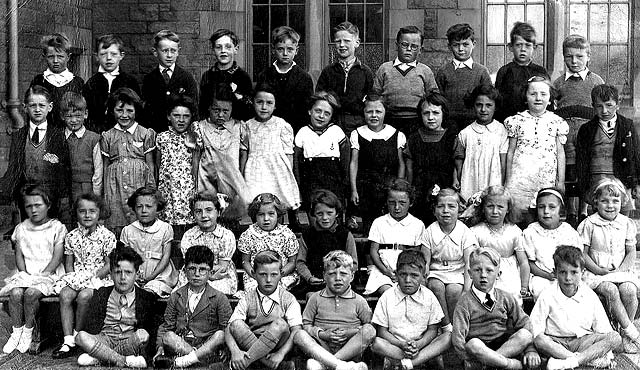 © Reproduced with acknowledgement to Jim Smart, Bournemouth, Dorset, England
Towerbank School, Portobello
Thank you to Jim Smart for allowing me to reproduce this photograph of his class at Towerbank Primary School, Portobello.
Jim wrote:
1939
"If memory serves me right, this photo was taken in August/ September, just before the outbreak of World War II."
Top Row
"The top row includes:
- Billy Webber, Bath Street
- Billy Lauder, Tower Street
- Bobby Dalrymple, Adelphi Place (last on right-hand side)."
2nd Row
= Row next to Top Row
"This row includes:
- Ian Wood, Bath Street
- Isabel Lambert
- Margaret Armstrong
- Rae Bell, Mount Lodge
- Alice Brown
- One of the Hughes sisters
an 'all girl' family from Mitchell's Buildings opposite the 'Pool' on the High Street, all with outstanding good looks. I remember their mother was beautiful."
3rd Row
= Row next to Bottom Row
"This row includes (left to right):
1. Mary Fyfe/Fife
4. Sheila Paton
5. Dorothy Lawrence
6. Isabella Young
7. Helen / Ellen Hood from Mount Lodge (perhaps)
11. Irene Lennox
Bottom Row
"The bottom row includes:
- Alec Gilchrist
- Willie Armstrong (no relation to Margaret)
- Jackie Innes, my very near neighbour in Bath Street.
- Jim Smart (me), Bath Street, on the end."
Jackie Innes
"Jackie Innes, above, was born with his right hand missing and his arm formed into a 'stump'. I know all about what this stump could do, as I was the recipient of it during the daily fights we had!"
Jim Smart, Bournemouth, Dorset, England: November 23, 2010 + February 7, 2011
About 65 Years Later
Here is a photograph of Towerbank School, taken in 2004