D & W Prophet, Dundee
Wardie Primary School
Wardie Primary School Pupils - mid-1950s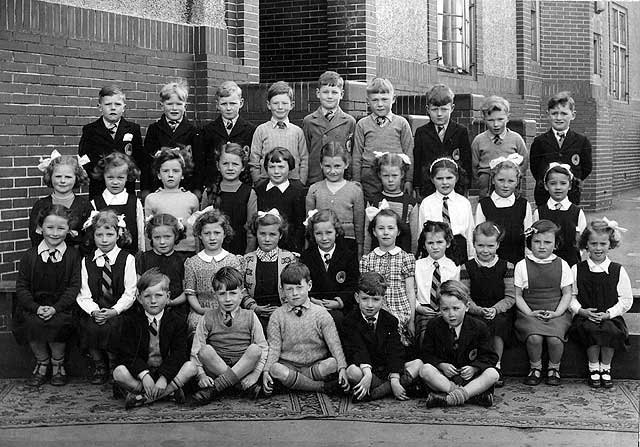 © D & W Prophet, Dundee Reproduced with acknowledgement to Carol Stubbs, Edinburgh
Wardie

Primary School

mid-1950s

From
left

1st Row
Back Row

2nd Row

3d Row

4th Row
Front Row

1
Leslie Mills
Sheila Skinner
?
Brian Crosbie
2
Colin Russell
Mary Hardie
Eileen Marshall
Billy Pope
3
Allan Irvine
?
?
Colin Wilson
4
Ian Watson
Ann Sharp
Sheila Cormack
Neil Campbell
5
Sandy Dunnett
Carol Taylor
Caroline Dickie
Colin McGregor
6
Peter Shrove
Patricia Buchan
?
7
Bryan Ryalls
Ann Vidler
Christine Telfer
8
Gilbert Thomson
Margaret Haslam
Catriona Murray
9
John Flockhart
Joan Dinwoodie
Catherine McGilvray
10
Irene Booth
?
11
Frances McGraw

Acknowledgements

Names in BLACK provided by Carol Stubbs, Edinburgh: 4 Jan, 2010

Names in RED added by Alan Irvine, Drymen, Stirlingshire, Scotland, 25 Nov, 2015
Comment
1.
Carol Stubbs (née Taylor)
Edinburgh
Thank you to Carol Stubbs for allowing me to reproduce the photograph above of her class at Wardie Primary School, taken in the mid-1950s, and for providing the names of several of the pupils.
If you know which year this photo might have been taken, or know the names of any of the other pupils in this photo, please email me.
Thank you.
Peter Stubbs: January 4, 2010
Comment
2.
Alan Irvine
Drymen, Stirlingshire, Scotland
Thank you to Alan Irvine for giving me the names of most of the pupils' in this photo, and for also telling me about his teachers.
Alan wrote:
Teachers
"My teachers were:
- Year 1: Miss Clark
- Year 2: Miss Bescow
- Year 3: Miss Bescow
- Year 4: Miss Fraser
- Year 5: Miss Fraser
- Year 6: Miss Weir
- Year 7: Miss Weir
None of these teachers was married. In those days, teachers were not permitted to remain in the profession if they married."
Other Staff
"When I was at the school:
- The Headmaster was Mr Hutchieson
- His young Secretary was Miss Lawson
- The Janitor was Mr Carrington"
Alan Irvine, Drymen, Stirlingshire, Scotland
(Alan has now returned to Scotland, after having lived in Ireland for 25 years.)