Church Hill
Between Bruntsfield and Morningside
Church Hill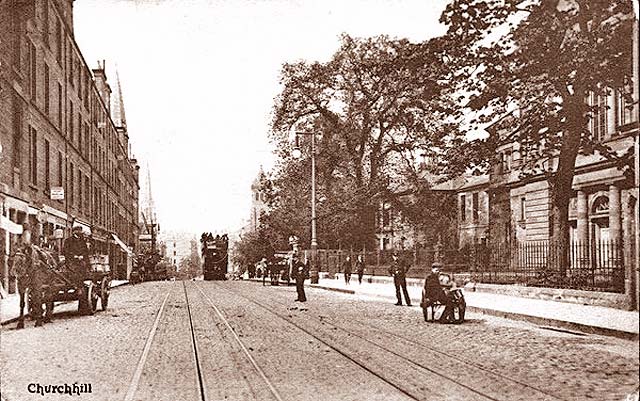 © Reproduced with acknowledgement to the National Tramway Museum, Crich, Derbyshire, England
Church Hill
The View
I believe that this view probably looks down Morningside Road towards 'Holy Corner', the junction with Colinton Road and Chamberlain Road that had a church on each of its four corners. Those Church steeples can be seen in the haze in the background on this photo.
Publisher
This card is in a rather reddish-sepia tone. I don't know the publisher of this post card. I have only seen the front of the card. Looking at the back of this card might reveal who the publisher was.
Publisher - Update
Thank you to somebody called Michael for sending me a copy of a postcard with the same photograph as above, but in a different tone and with a different caption. His card is titled:
"44 MORNINGSIDE ROAD, EDINBURGH P&WM LTD Copyright"
Date?
When might this photo have been taken?
The only vehicles in this photo are the tram and horse-drawn or hand-drawn vehicles, so the photo may have been taken in the very early 1900s.