Giles Street
Leading to the east off Henderson Street, Leith
Buildings demolished 1914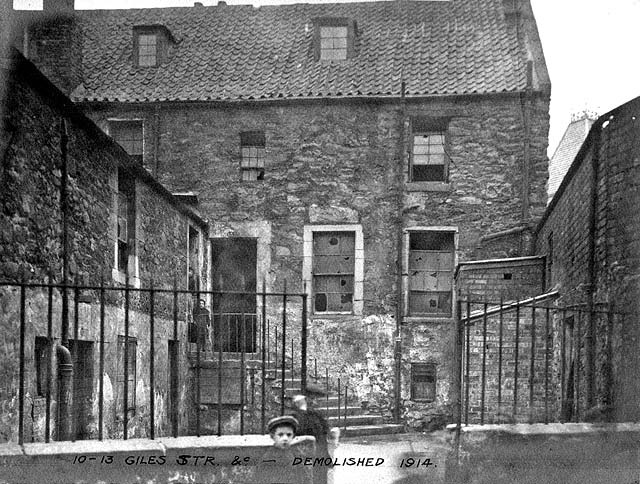 © Reproduced with acknowledgement to Archie Foley, Joppa, Edinburgh
Giles Street, Leith
Buildings demolished
These buildings were demolished in 1914.
Next time I'm in the area with my camera, I'll have a look to see what's there now.
Acknowledgement: Archie Foley, Joppa, Edinburgh: January 14, 2010
This is one of a series of photos posted onto boards in an old album that Archie Foley acquired a few years ago. Archie believes that these are likely to be official photos that probably once belonged to Leith City Council.
Reply
1.
John Hadden
Edinburgh
Thank you to John Hadden for sending the reply below. I received this message from John just a few minutes after I had added the photo to the web site!
John wrote:
Location
"As soon as I saw this image, I recognised that it shows the gated yard just to the north of the hairdressing rooms beside Jenny Green's Close."
John Haden, Edinburgh: January 16, 2010