Junction Bridge
Great Junction Street, Leith
Junction Bridge - Bridge Widening - 1910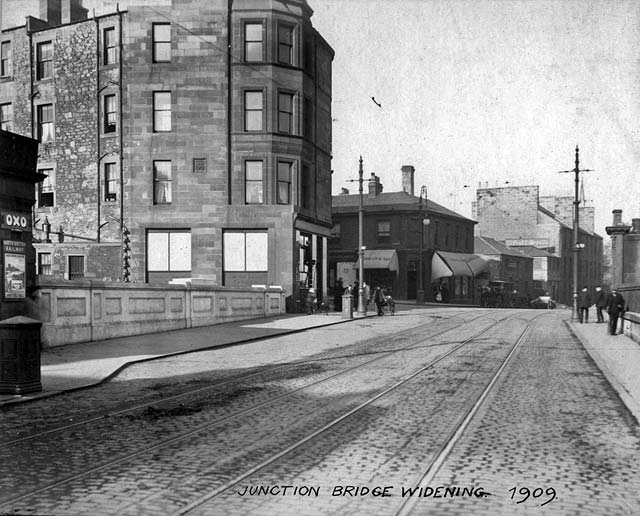 © Reproduced with acknowledgement to Archie Foley, Joppa, Edinburgh
Junction Bridge - 2011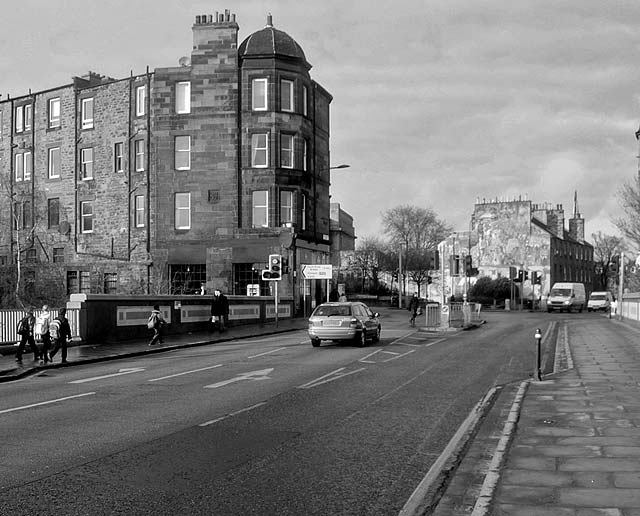 © Copyright: Peter Stubbs - please contact peter.stubbs@edinphoto.org.uk Photo taken: January 21, 2011
Comparison of 1909 and 2011 photos
Junction Bridge
The two photos above show the same view, but were taken about 100 years apart. Both look looking NW across Junction Bridge, Leith.
The photo is taken from the bridge over the Water of Leith. The bridge in the photos is over the old railway line, now a cycle path. The railings on the left in the recent photo are where the entrance to Junction Road Station once stood. The low building in the centre of the old photo has been demolished, and a mural has been painted on the gable end behind it.
The large tenement on the left at the corner of Ferry Road looks very similar in both photos, apart from an extra window that has been created.
The View
Here we look across Junction Street Bridge over the railway and Water of Leith, looking to the NW towards North Junction Street and Leith Harbour.
The Buildings
Left
The four-storey tenements on the left of this photo are at the eastern end of Ferry Road. They were only about eight years old when this photo was taken. The stone plaque on the wall reads
Plaque
Centre
The two-storey buildings in the centre of this photo have now been demolished. There is now an area of open land there, on the corner of Ferry Road and North Junction Street. The Cavorting Sailors sculptures, sailors and barrels, was added in 2002, but was soon vandalised. Little now remains of this sculpture
Cavorting Sailor
Centre-right
The gable end, centre-right in this photo is still standing, covered by a mural painted in 1986, but now rather faded after the harsh winters of 2009-10 and 2010-11. Here is a photograph of the mural taken in 2005, before the mural faded.
Mural
Station
Here is another photo from the same collection, also taken in 1909. This photo shows the old station beneath the bridge and looks to the NE towards the tunnel as the line looks towards its terminus at Leith Citadel Station, across the road from Leith Nautical College at Commercial Street, Leith.
Acknowledgement: Archie Foley, Joppa, Edinburgh: January 14, 2010
The photo at the top of this page is one of a series of photos posted onto boards in an old album that Archie Foley acquired a few years ago. Archie believes that these are likely to be official photos that probably once belonged to Leith City Council.