Learmonth Avenue
Comely Bank, Edinburgh
1.
1959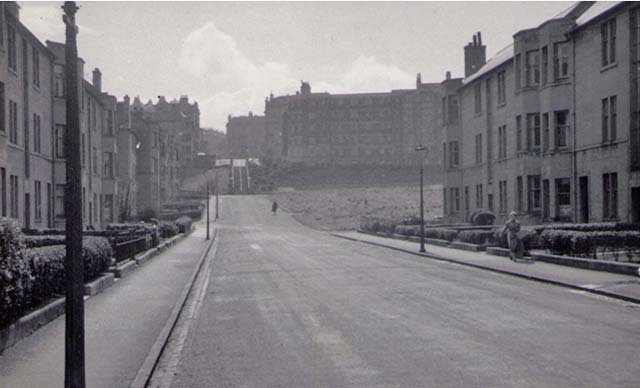 © Reproduced with acknowledgement to Al Lorentzen, Inverness, Illinois, USA Photo taken 1959
2011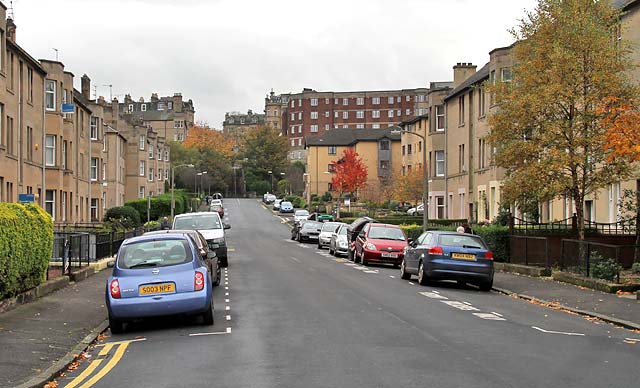 © Copyright: Peter Stubbs - please contact peter.stubbs@edinphoto.org.uk Photograph taken November 4, 2011
Recollections
1.
Al Lorentzen
Inverness, Illinois, USA
Learmonth Avenue
Photo 1
1959
Thank you to Al Lorentzen for allowing me to reproduce Photo 1 above. He took this photo in 1959 when he was based at Kirkliston Air Base with the US Air Force.
This view looks to the south along Learmonth Avenue towards the steps leading to South Learmonth Avenue and Queensferry Road.
Learmonth Avenue is the last street on the left before Comely Bank Roundabout, when heading out of town along Comely Bank.
The Mixie
The open land to the right-hand side of Learmonth Avenue in this photo was known as The Mixie.
Ian Young, a contributor to the Recollections section of the EdinPhoto web site wrote:
"The waste ground between Learmonth Ave. and Orchard Brae was called the Mixie.
I think it was called Mixie because all the building products for the building of the Comely Bank/Learmonth houses were mixed roughly in that area.
I can also remember there being an area of compacted sand which we played in as kids."
Ian Young, Hawick, Borders, Scotland: September 18, 2009
Recollections
2.
Peter Stubbs
Edinburgh
Learmonth Avenue
Photo 2
2011
I took Photo 2 on November 4, 2011. The homes along both sides of Learmonth Avenue, and on the higher ground in the distance, near South Learmonth Avenue, look very much as they did when Photo 1 was taken, 52 years earlier.
However:
- There is now new housing on what was open ground at The Mixie.
- Trees have grown along the street and especially around the steps at the end of the street.
- Parked cars have arrived, together with yellow and white lines on the road to show the parking restrictions.
Peter Stubbs, Edinburgh: November 8, 2011