South Charlotte Street
Leading from Charlotte Street to Princes Street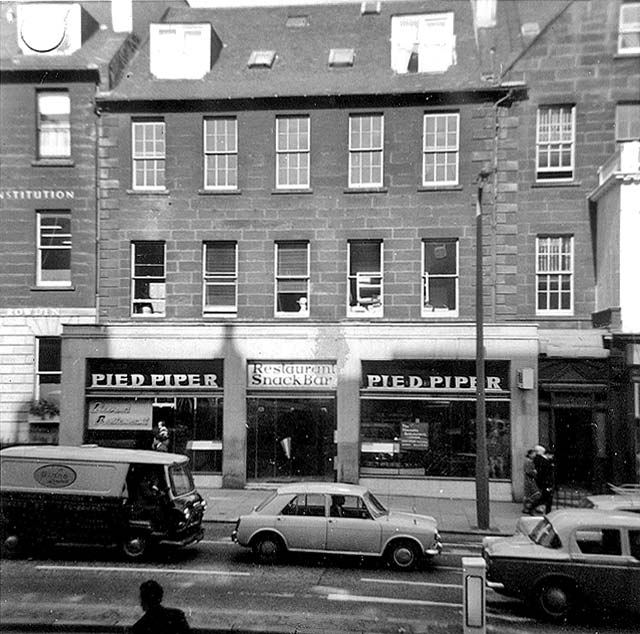 © Reproduced with acknowledgement to Jim Cairns, Dunfermline, Fife, Scotland. Photographer not known
South Charlotte Street
Thank you to Jim Cairns for sending me the photograph above, which he believes was taken in the early-1960s.
Jim wrote:
The Pied Piper
"The 'Pied Piper' in South Charlotte Street was a favourite Coffee Bar in Edinburgh. It was quite large, but always very busy.
The National Provincial Building Society later took over the premises. Now it is occupied by the Dunfermline Building Society.
I've had the picture for a long time. I don't remember who took it."
Jim Cairns, Dunfermline, Fife, Scotland: November 28, 2010
The Pied Piper
Is that a Commer van, an Austin A40 and a Hillman?
I'm sure somebody will tell me if I've got that wrong!
Peter Stubbs, Edinburgh: November 28, 2010
Reply
1.
Brian Gourlay
Biggar, Lanarkshire, Scotland
Thank you to Brian Gourlay for replying very quickly. Brian's reply reached me about half an hour after I had added the picture and comments above to the web site.
Brian wrote:
Van and Cars
"I think you're right about the Commer Van and the Hillman Minx, or maybe a Sunbeam – but the other car looks like an Austin or Morris 1100.
The Morris 1100 was launched on 15th August 1962, which helps to date the photograph. The Austin version followed 12 months later."
Brian Gourlay, Biggar, Lanarkshire, Scotland: November 28, 2010
Reply
2.
Adrian Coppola
Thank you to Adrian Coppola who wrote:
Barbecue
and
Pied Piper
"Just out of interest, the Barbecue and Pied Piper restaurants were owned by my father, Claude Coppola and his business partner, Eddie Crolla.
It's nice to see that people still remember both restaurants fondly."
Adrian Coppola: