Valentine Post Cards
Scottish National Exhibition
1908
Bandstand
and
Art Galleries
The Illuminated Bandstand and Art Galleries
A Valentine's XL Series Post Card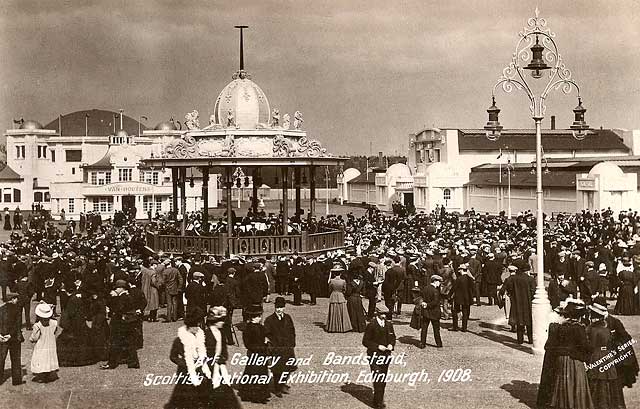 © Peter Stubbs. For permission to reproduce, please contact peter.stubbs@edinphoto.org.uk
Bandstand and Art Galleries
This card is from Valentine's XL Series has not been sent through the post.
This is one of several postcards by Valentine & Sons of the 1908 Exhibition.
Here is a floodlit view of the bandstand and art galleries:
Here is a postcard of another illuminated building at the Exhibition:
Reply
1.
Jim Fleming
Edinburgh
Thank you to Jim Fleming, Edinburgh for telling me more about the bandstand in this photo.
Jim wrote:
Bandstands
"The bandstand in this photo was removed, along with most of the other exhibits to the Exhibition, to Marine Gardens in Portobello.
Another bandstand was erected in Saughton Park in 1909 and it is this bandstand which is currently in the City of Edinburgh store and which will hopefully be re-instated in the not too distant future."
Jim Fleming, Edinburgh: June 22, 2009
Reply
2.
Alan Maloney
Stenhouse, Edinburgh
Thank you to Alan Maloney who replied to Jim Fleming's message above.
Bandstand in Storage
"Here is a photo of the Edinburgh bandstand that is in storage.
But this is not the bandstand that used to be at Saughton Park.
"It is the one that used to be in The Meadows.
Alan Maloney, Stenhouse, Edinburgh: December 31, 2011 + January 3, 2012
The bandstand in The Meadows was dismantled in 1950. The parts are still in storage now, in 2012.