Valentine Post Cards
Scottish National Exhibition
1908
Bandstand and Art Galleries
The Illuminated Bandstand and Art Galleries
A Valentine Souvenir Post Card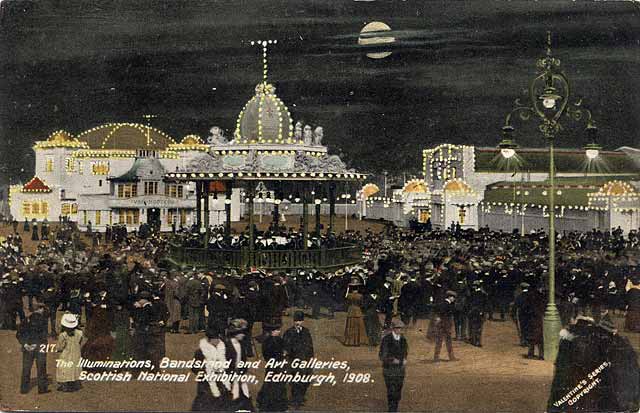 © Peter Stubbs. For permission to reproduce, please contact peter.stubbs@edinphoto.org.uk
Bandstand and Art Galleries
This card is from Valentine & Sons Souvenir Post Card series. It was posted from Edinburgh to Dundee on 26 September 1908.
Here is the message written on the card. [p.c. = post card]
"As the saying goes, everything comes to him who waits, so I am still waiting for a p.c.
When are you going to spend the promised day here?
Here is a daytime view of the bandstand and art galleries::
Here is a postcard of another illuminated building at the Exhibition: