Edinburgh Today - Cruise Ship
'Ocean Mist'
Based on research by Captain Walter Lyle Hume
Thank you to Captain Walter Lyle Hume, formerly of Newhaven, Edinburgh, now living in Cowes, Isle of Wight, for providing me with his comprehensive research into OCEAN MIST.
W L Hume served as Chief Officer for some time on board this vessel. The notes below are based on this research.
First World War
The steamer, OCEAN MIST was built for the Admiralty during the First World War as part of a large programme to replace the many fishing trawlers that had been requisitioned, converted to minesweepers, then lost in action.
Out of these 500 vessels built under this programme, OCEAN MIST is the only known steam-driven trawler to have survived into the 21st century.
The ship was originally named SAMUEL GREEN. Each of the new vessels built under this programme was originally named after a member of the crew on the ships HMS VICTORY, and HMS ROYAL SOVEREIGN, at the time of the Battle of Trafalgar.
SAMUEL GREEN was built by George Brown & Co, Greenock. It was not completed until 30 April 1919, by which time the War was over, so it was initially fitted out as a fishing trawler.
Owner: K L Guinness
SAMUEL GREEN was sold in 1919 to Mr. K. L. Guinness, a member of the renowned Irish brewery family and inventor of the KLG spark plug. It was re-named OCEAN ROVER and its fishing gear was removed.
Accommodation was created for the owner and his guests. The owner indulged in an early form of Rally Racing so he had the original Fish Hold and Ice Room adapted to carry road racing cars from the UK to the South of France and Italy.
Other Owners
In 1924, OCEAN ROVER was sold to the Duke of Leeds of Hornby Castle and its name was changed to ARIES. In 1926 she sailed to the Cocos Islands.
In 1930, the yacht was sold to yet another member of the Royal Yacht Squadron, Sir Harry K. Newton, Bt. Its name reverted to OCEAN ROVER.
In 1934, the yacht was acquired by Sir Alfred L. Goodson of Brixham, Devon, and was based at Cowes, Isle of Wight.
In 1938, it was purchased by James Napier of Old Kilpatrick on the Firth of Clyde in Scotland.
Second World War
After a relatively short period as a Clyde based yacht, due to the outbreak of War in September 1939, OCEAN ROVER was laid-up in Bowling Harbour. It was requisitioned by the Admiralty during November 1939, along with practically the entire British Fishing Fleet, to undertake the duties of Mine Sweeping and Coastal Patrol.
It was, understandably, used as a Group Commander's Head Quarters ship. Without conventional fishing equipment - trawl winch/gallows etc, it would not have been readily suitable without extensive conversion, to undertake practical mine sweeping duties.
It was designated as a Torpedo recovery vessel based at Arrochar, Port Bannatyne, Ormidale - Loch Riddon, and Rothesay, prior to becoming an anti-mine calibrating vessel stationed at Rosyth, Granton and Leith.
It then took up duties on the South Coast, being Portsmouth based and working from the Solent out-station of Cowes.
Post-War
Most other vessels of her size were trawlers. These were quickly sold out of Admiralty service very soon after the war was over in 1945.
However, OCEAN ROVER remained laid-up at Portsmouth, apparently not suitable for commercial use, until 1949, when it was purchased by Mr. F. D. Fenston of London. He moved it over to Cowes to be cleaned up and re-furbished as a yacht. The crew were still accommodated in the original open plan cabin on the aft side of the Engine Room bulkhead.
Materials for luxurious projects, such as yachting, were very strictly controlled by government edict and coal was even more strictly rationed. So OCEAN ROVER remained unused for quite some time, mostly laid-up in a mud berth at the yard of G. Marvin in Cowes.
Isle of Wight
By 1954 most of the war-time restrictions had been lifted and OCEAN ROVER had a new owner, F G (Tiny) Mitchell - a Peterborough multi-millionaire and a keen and successful racing yachtsman in the Solent.
He was a larger than life figure, who wished to have a large stable boat to accommodate his personal requirements. He found this yacht to be very suitable, and re-named the yacht, OCEAN MIST
He arranged for it to be fitted out as an accommodation ship and for its boilers to be altered from coal burning to being oil fired. He berthed the yacht on the River Medina at Cowes.
Apart from being much more economical, this avoided the filthy aspect of 'coaling ship', which necessitated everyone leaving the ship, apart from those involved in such duties. Even after the last drop of coal was loaded the cleaning up ritual took just as long as the entire loading process.
With the passing of 'Tiny' Mitchell in 1957, Ocean Mist was used by his widow, Mrs 'Blackie' Mitchell for a few years although it never sailed.
Scotland
During 1960 the yacht was purchased by Mr. Hobbs of the Great Glen, Inverness, and could be seen at various locations along the Caledonian Canal for several years.
Ocean Mist sailing on the Caledonian Canal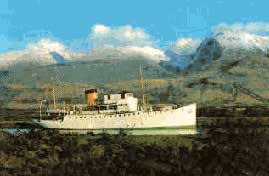 © Acknowledgement to Captain Walter Lyle Hume
After Mr. Hobbs, the owner, died in 1965, OCEAN MIST became the property of the Executors of the Hobbs estate, ultimately being bought for use as a floating restaurant and moored alongside the 'Kings Wark' quay in the Old Harbour at Leith Docks, beside Bernard Street Bridge, from the 1980s onwards.
The floating restaurant closed in 2000 but is now open again as 'Cruz'.
Ocean Mist moored on the Water of Leith, The Shore, Leith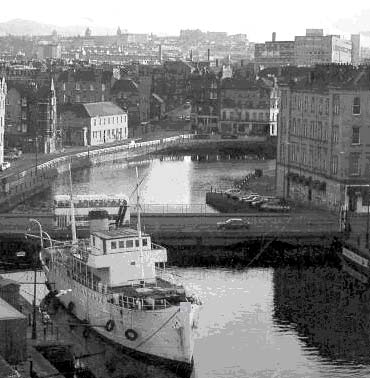 © Reproduced with acknowledgement to Captain Walter Lyle Hume
The research above has been compiled by Captain Walter Lyle Hume, formerly of Newhaven, Edinburgh but now living in Cowes, Isle of Wight, UK, who served as Chief Officer for some time on board this vessel
Ocean Mist - Today
It was announced in 2005 that Ocean Mist will undergo another re-fit.
For further details, please see Ocean Mist, today