Edinburgh Recollections
Ned Barnie
John Smith and Ned Barnie preparing to swim the Firth of Forth - 1955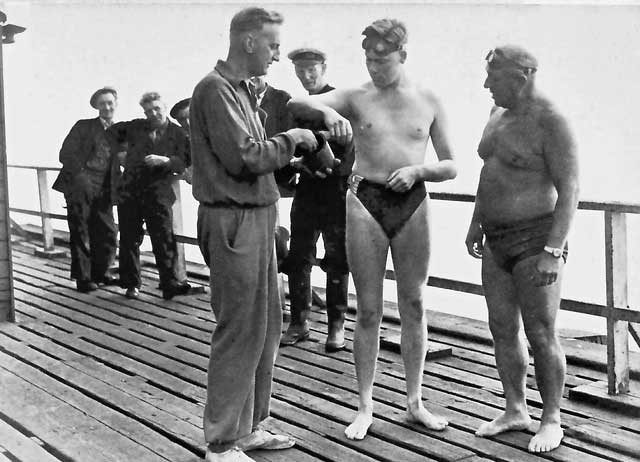 © Reproduced by courtesy of Evening News. Click here for web site details.
and with acknowledgement to Bryan Gourlay, Biggar, Lanarkshire, Scotland
Ned Barnie
Ned Barnie was is one of the Edinburgh characters remembered in the swimming baths recollections section of this web site.
Below are more recollections.
Recollections
1.
George Smith
British Colombia, Canada wrote:
George wrote:
Boy Scouts' Gala
"I remember Ned Barnie doing a demonstration swim at a Boy Scout Gala at Dalry baths where he amazed us all by doing a Johnny Weismuller (Tarzan) underwater swim of a full length and a return part-length. I think he was a former Channel swimmer."
George Smith, British Colombia, Canada, April 21, 2006 and
Recollections
2.
Bryan Gourlay
Biggar, Lanarkshire, Scotland
Thank you to Bryan Gourlay for providing the photograph above, taken in 1955.
Bryan wrote:
Channel Swimmer
"As George says, Ned Barnie was a very famous bloke, around Edinburgh, for his many Channel swims and involvement with kids. He lived in Portobello. He is the older chap on the right of the picture and would have been aged almost 60 when the picture was taken.
The Edinburgh Evening News reported:
Ned Barnie
"Ned Barnie and a young John Smith were preparing to swim from Granton to Burntisland, which Ned had done on five previous occasions, once there and back. On this occasion, the 7 mile swim took four hours and 20 minutes.
Born in 1896, Ned was the first Scot to swim the English Channel (in 1950) and the first man to swim it both directions (1951). He held the record of being the oldest person to swim the Channel for 28 years. He was a dedicated swimmer, estimated to have completed 200,000 lengths of Portobello baths in 1932.
As well as teaching science, he regularly swam in competitions. He won the Scottish Amateur 880 Yards Freestyle in 1924 and 1925 (cutting an amazing 18 seconds off his winning time) and was Scottish Amateur Swimming Association president in 1946. During the First World War he was awarded the Military Medal.
He was officially known as W E Barnie (and appears in the record books as such), but was such a weel kent figure in Portobello, he was more popularly known as Ned.
He swam in the Forth every day, sometimes almost breaking the ice on the water. For his 70th birthday he treated himself to a swim from Fisherrow, Musselburgh to Portobello, a leisurely 2 mile journey. He continued swimming almost up to his death at the age of 87.
He died on Christmas Day, 1983."
Bryan Gourlay, Biggar, Lanarkshire, Scotland, , April 25 + 26, 2006
Recollections
3.
Walter Barnie
Oxford, Massachusetts, USA
Walter Barnie wrote:
Grandfather's Cousin
"Ned was my grandfather's cousin. My grandfather moved here from Edinburgh in 1919. I remember him speaking about Ned growing up.
I must have inherited the swimming gene as I swim 5 days a week, however, I only do 3 miles a week not like Ned."
Walter Barnie, Oxford, Massachusetts, USA: August 7+13, 2006
Recollections
4.
Archie Foley
Joppa, Edinburgh
Archie Foley wrote:
Commemorative Plaque
"On 16h July this year, a commemorative plaque was unveiled at 7 Straiton Place, Portobello where Ned lived for many years,"
Archie Foley, Joppa, Edinburgh: August 18 + 19, 2006
Recollections
5.
Margaret Mccafferty
Allanton, near Shotts, North Lanarkshire, Scotland
Margaret Mccafferty wrote:
Homecoming
"Around 1950, we were on holiday in King Street, Portobello when Ned Barnie came home after swimming the English Channel, and there was a big noise about him then.
I was quite young and can just remember faintly."
Margaret Mccafferty: February 4, 2008
Straiton Place
Commemorative Plaque
I visited Straiton Place on August 20, 2006, and took a few photographs of the plaque and the buildings that it has been attached to.
- Peter Stubbs, August 22, 2006
Recollections
6.
John Warnes
John Warnes wrote:
Teacher
"I was reading the piece on Ned Barnie.
He was my science teacher at St Anthony`s school in Lochend Road, 1969-1971. He always smelled of the sea and swam 2 miles every morning. He was not a bad teacher but did seem a bit eccentric.
John Warnes, Doncaster, Yorkshire: September 14 2008