Restalrig
A district about 2 miles to the NE
of the centre of Edinburgh
Recollections
1.
Cath Tuff (nťe Cath Hay)
Warwickshire, England
Thank you to Cath Tuff (formerly Cath Hay) for sending her memories of Restalrig in the 1950s and 1960s.
Cath wrote:
Norton Park School
"When I was 12 years old, I went to Norton Park school by the Hibs football ground. Did we have some laughs? I went to school a little girl and when I left I had learnt to smoke and other bad habits, but we did learn some things and made some good friends."
Munrospun
"When i left school, I didn't get a choice of were I was going to work. My Mother took me to Munrospun at Restalrig, as a message girl.
I hated it but I loved the girls that I worked with and I still keep in touch with a dear friend that I met then, after 50 years."
Dance Hall
"I learnt how to dance to Bill Haley then skiffle with Lonny Donegan. Then my first gin & bitter lemon - yuck, but the effect was good!"
Does Anyone Else Remember?
"I wonder if there is anyone out there that remembers Norton Park school or Munros. Both are gone now, I think. Let me know"
Cath Tuff, Warwickshire, England [since 1970]: December 15, 2006
Recollections
2.
Archie Meldrum
Elgin, Morayshire, Scotland
Thank you to Archie Meldrum for adding his memories of Restalrig to the EdinPhoto guestbook.
Arch wrote:
Schools
"I was a pupil in Craigentinny School 1940-43 when I 'graduated' to Lieth Academy until the big bad dog of WORK took me."
Bomber
"I remember, in particular, the lone Gerry bomber who had a go at Loaning Road. Anyone comment?"
Youth Club
"Does anyone remember the boys Youth Club in Old Restalrig road run by by Dr. Gordon Donaldson?"
Archie Meldrum, Elgin, Morayshire, Scotland:
Message posted in EdinPhoto guest book, April 18, 2008.
Recollections
3.
Robert Fender
England
Thank you to Robert Fender who wrote:
Restalrig Road South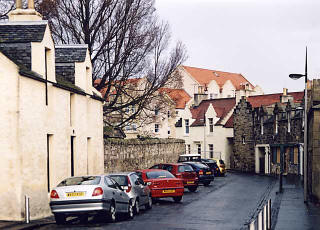 © peter.stubbs@edinphoto.org.uk Photo taken 20 Feb 2004
"This photo of the bottom of Restalrig Road South brings back memories of the late-1940ís and early-1950ís. We used to call it 'The Village' - why, I have no idea.
On the Left
"On the left, where the cars are parked, is the church and the graveyard.
There used to be shops. The one that I remember was the barber, Peter Easton and his son. They cut my hair and my Dadís many a time over the years.
Moving down, there was the church hall, where the cubs, scouts etc use to meet. I was one of those cubs, at least for a short time.
Moving further down, there was the fish and chip shop, then Rintouls. If I remember correctly, they were something to do with whisky.
Then, there was the doctorís surgery, Dr. Ferguson, or at least it was his when I was a lad.
Then, there was the newsagent. I remember using my sweet coupons there at the weekend, the only time I had any money.
Round the corner from Kemps was Marionville Road and I lived just a couple of entries (remember that word?) along there."
On the Right
"Across the road from the Doctor's surgery, there were the allotments. Thereís a housing estate there now.
At about this point, there is a road leading to the Loganlea area, then there was a pub, 'The Bunch of Grapes', I think. It was owned by the Dodds.
Past the pub, there was a small parade of shops:
- The Dairy.
- The Greengrocer's, Mrs Lea.
- Kemp's the off-licence. I remember Charlie Kemp well."
Play
"No doubt things have changed, but I have still memories of playing kick the can, hide and seek etc., and playing on the swings and roundabout in the park opposite.
I donít get back that often now and the lads I used to knock around with have gone their separate ways, but I am still in touch with a few of them, even though one is now living in New Zealand. They were happy days."
Robert Fender, England: July 29, 2011
Recollections
4.
Gordon Smithson
Australia
Thank you to Gordon Smithson for writing about the time when he lived in Restalrig.
Gordon wrote:
Munrospun
"My dad, Val Smith, was the maintenance electrician at Munrospun and we had a tied house provided by the company.
We lived at 1 Loaning Road and had a bomb shelter in the back garden where my brothers and I often played from 1955 to 1964."
Nursery and Schools
"I went to the nursery at Craigentinny House.
My brothers, Alan, David and Brian, and I went to Craigentinny Primary School. My mum, Janet/Nettie Robertson, had also gone there during the war and was one of the kids who was evacuated.
Later, from 1971 to 1977, I attended Leith Academy. I walked down Restalrig Road from our house at No.143 to get there."
Church and Scouts
"I was baptised at Restalrig parish church in 1959.
In the early 1970s attended the scouts in the church halls every Tuesday. Ken Moyes was the scoutmaster and he did a great job in ensuring the scouts were fun."
Restalrig Village
"I now live in Australia. I love looking at the way Restalrig village has stayed the same over all these centuries."
Gordon Smithson, Australia: October 28, 2011
Recollections
5.
Bryan Gourlay
Biggar, Lanarkshire, Scotland
After reading comments about horses and stables at Cowan's yard in the 1940s and 1950s, Bryan Gourlay added that horses apparently had a very different life in the 1930s.
Bryan wrote:
Great Grandfather's Horse
Smokey Brae
"My great grandfather, who had a stable under the railway arch at the bottom of Smokey Brae in Restalrig, had a well-loved horse called Jimmy who had pulled the coal delivery cart for many years.
My mother told me that, when Jimmy got too old to pull the cart any more, my great grandfather walked him down to Leith docks to a Belgian ship and sold him for horse meat for a few shillings!"
Brian Gourlay, Biggar, Lanarkshire, Scotland, August 2, 2007
Recollections
6.
Terry Cox
Fairmilehead, Edinburgh
After reading Robert Fender's comments about the barbers at Restalrig, , Terry Cox wrote:
Barbers
My Family
"Robert Fender, in his Recollections 3 above,mentions 'the barber, Peter Easton and his son'.
Peter (Pee-Pee) Easton was my grandfather, and his younger son Alec, who was also a barber, was my uncle.
Both are long since gone, but it might interest Robert to know that Peter's elder son, also Peter, is still alive, looking after himself. He will be 94 later this year."
Terry Cox, Fairmilehead, Edinburgh
Recollections
7.
Laurie Thompson
Chipping Sodbury, Gloucestershire, England
Thank you to Laurie Thompson who wrote:
Charlie Kemp
Grocer's Shop
"Reading the various recollections of Restalrig, I came across the references to Charlie Kemp, who owned the grocery shop on the corner of Marionville Road and Restalrig Road South for many years. As a schoolboy, I worked as a delivery boy for Charlie for some while in the early 1960s
He was always the perfect gentleman, very courteous to all his customers, and always very smart, with his Brylcreemed hair, immaculate white warehouseman's coat and highly-polished shoes. I remember his favourite expressions, in his dealings with his customers, were "Thanking you" and "Much obliged".
I wouldn't be surprised if you Googled 'dapper', even now, and STILL got a picture of Charlie Kemp! His son also helped out in the store at times and was, as might be expected, a chip off the old block.
Kemp's Corner
The bus stop outside his shop remained for many years a Corporation Transport fare stage officially known as "Kemps Corner". Is it still, I wonder?"
Delivery Barrow
"I enjoyed working for Charlie, but as he was so considerate to customers, and was so highly regarded by them, that he had a loyal customer-base that extended even up to the Paisleys on the flank of Arthur's Seat
My delivery barrow was a medium-sized wooden box, with two small pram wheels and two wooden handles. Filled with bottles, cans and vegetables, it was a dead weight sometimes, and I used to dread orders from the Paisleys - having to lean into the barrow to get it to the top of Smokey Brae, to the 'base camp' of Jock's Lodge and Willowbrae Road, before tackling the final ascent of Abercorn Road and Paisley Crescent. Coming back down was fine, though!
De Felice's
Ice Cream
"Do any of your other correspondents remember the other well-known family in the area, the De Felice's, with their wonderful ice cream factory and parlour in Marionville Drive.?
Living round the corner in Marionville Road, we could take our own bowl in and get six scoops of their soft ice cream, covered in raspberry sauce and a sheet of greaseproof paper, and be back home having it for pudding (no fridge-freezer then!) in minutes before it even started to melt.
Other Sales
Occasionally, the De Felice,s would have side-sales of non-ice cream things that I suppose they must have bought at auctions or surplus sales somewhere.
I particularly remember myself and my pals buying from them (for sixpence apiece) solar topees, and for a while afterwards our back green was like a mini Rourke's Drift without the Zulus.
Happy days!
Laurie Thompson, Chipping Sodbury, Gloucestershire, England: May 23, 2014
Recollections
8.
Bryan Gourlay
Biggar, Lanarkshire, Scotland
Thank you to Bryan Gourlay for writing again.
Bryan wrote:
Charlie Kemp
Grocer's Shop
"I also remember Charlie Kemp.
My great grandfather Robertson and auntie Aggie lived in the stair right next to Kemps for nearly 50 years - 95 Restalrig Road South. I was in the shop a few times when I was a kid as Charlie was a close friend of my mother and aunt Mary who all grew up together in the 1920s and 1930s.
My mother also talked fondly of Charlie's father who owned the shop during that period. I think he was also called Charlie and, according to my mother, was originally from Orkney. She said the shop was open until 10pm in those days."
Bryan Gourlay, Biggar, Lanarkshire, Scotland: June 8, 2014
Recollections
9.
Laurie Thompson
Chipping Sodbury, Gloucestershire, England
Thank you to Laurie Thompson who wrote:
St Cuthbert's Milk Deliveries
"About six minutes into this St Cuthbert's Milk Deliveries film, there's a scene of a chauffeur tending to his Rolls Royce. He looked a bit familiar, so I went back into our family photo box and, sure enough, I'm almost certain that it's our milkman who delivered to us in Marionville Road from his horse-drawn cart. I'm sorry I don't know his full name, but my mum always just referred to him as 'Jimmy The Milkman'!
The Newspaper Shop
"The reason I went to our photo box was to find this photo, one of the first photos I ever took with my then-new 35mm camera in the summer of 1964:
Newsagent
at
Restalrig Road South
LEFT: Laurie's Mum's friend, CENTRE: Jimmy the Milkman RIGHT Laurie's Mum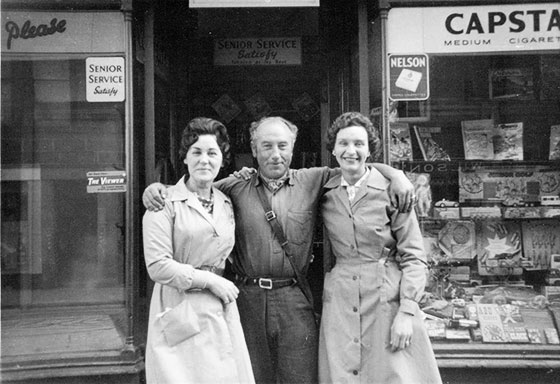 © Laurie Thompson: Chipping Sodbury, Gloucestershire, England
I took my camera to the newspaper shop in Restalrig Road South, across the road from Charlie Kemp's shop, to take a picture of my mum and her friend who both worked there.
'Jimmy the Milkman' happened to be passing by on his delivery round, and so was roped in to the photo group. My mum is on the right. Sadly, I can't remember the name of my mum's friend, but I do remember that she was a lovely person with a nice happy personality. I also remember Jimmy as being a larger-than-life, good-natured chap.
Are you a relative of one of the people with my mum in this picture, or indeed are you in this photo and are still with us? If you are, and would like a copy of this photo, please pass on your request to me, and I'll be happy to send you one."
Newspaper Deliveries
"As well as delivering groceries for Charlie Kemp after school on school days, I delivered Sunday papers (VERY heavy papers, even then) for the same newspaper shop shown in the photo above
This was on one big round. It lasted several hours, and went from Restalrig Road South as far as Sleigh Drive and down Craigentinny Road, up and down lots of tenement stairs."
Milk Deliveries
"I also delivered early morning milk and rolls during the summer holidays one year, for the dairy (Wilson's I think it was called) just across the road from the newspaper shop and near to Kemp's
I had to get up at six o'clock in the morning to do this, but I seem to remember only nice weather, with nice clear sunrises over Craigentinny. (There you are, Proclaimers - another song title for you!)."
Meat Deliveries
"Just to round things off, I also delivered butcher meat on a Saturday morning, for a while for a butcher (whose name I can't remember) in Lochend Drive, just off the Lochend Roundabout further up Marionville Road
This job didn't last very long. It took me, on my big heavy basketed delivery bike, into the depths of Lochend, which I used to think of as bandit country, because the young Lochenders had a bit of a reputation as 'hard men'.
I believe this went back to the time of the 'Teds' in the1950s. Whether or not it was justified, I don't know. I never actually had any trouble from anybody, and certainly the older generation of customers that I was dealing with there were always very nice and friendly."
Exams
and
No More Delivery Jobs
"Looking back, I'm surprised I passed my O Levels and Highers at Broughton, given the times I was out the house earning money, but I must have found the necessary time to study and do homework.
Eventually, all of the jobs I was doing were ditched when I'd finally saved up all the money I needed to buy the racing bike and cycling gear I'd been working for.
Laurie Thompson, Chipping Sodbury, Gloucestershire, England: June 8, 2014
Recollections
10.
Laurie Thompson
Chipping Sodbury, Gloucestershire, England
Thank you to Laurie Thompson for writing again about his memories of Restalrig.
Laurie wrote:
De Felice's Ice Cream
"While eating an ice cream today, I got thinking again about the De Felice's ice cream factory/shop that used to be in Marionville Drive.
Out of interest, I Googled Marionville Drive and, using Street View (- what a great invention that is!), I found out that the old site of their business is now occupied by a courtyard-type residential development called Marionville Medway. (Posh, eh?).
I suppose the people living in the development get their ice cream from Tesco or somewhere, but it won't be a patch on De Felice's."
Laurie Thompson, Chipping Sodbury, Gloucestershire, England: June 8, 2014
Recollections
11.
Kim Traynor
Tollcross, Edinburgh
and
Laurie Thompson
Chipping Sodbury, Gloucestershire, England
To read recollections by Kim Traynor and Laurie Thompson, of the old St, Margaret's steam locomotive depot at Smokey Brae, Meadowbank/Restalrig/ Piershill, please see the recollections beginning here:
Recollections
12.
Fred Legget
Sydney, New South Wales, Australia
Thank you to Fred Legget who wrote:
Lochend
Restalrig Avenue
"I lived at the top of a Restalrig Avenue from 1961 to 1974 and the sound of cheering crowds from Easter Road could be heard when Hibs scored a goal."
Schools
"Just down the road through Loganlea was Craigentinny Primary which I attended before graduating to Leith Academy Secondary."
This involved the new experience of catching the No 12 bus from Craigentinny Avenue in the morning, although truth be told most afternoons it was a case of walking home as the daily return fare had been spent in the sweetie shops opposite the school in Duke Street.
Weekends
"On Friday nights, it was off to the Eleventh Edinburgh Boys Brigade at Lochend Church, run by Captain Wilson. On Saturdays, it could be nowhere else other than Easter Road.
Shopping
"Shopping was at St Cuthbert's in Lochend (I still remember our Store Dividend Number) or at the shops on Craigentinny Avenue - but if it was a Sunday it was down the hill to Stott's, the corner shop at the Village.
Railways
"In the early days, it was romantic to see the steam trains running on the main Edinburgh to London line, but by the time I was due to leave Scotland in 1974, the steam engines had been replaced by the more efficient, if less romantic, diesel engines, and visits to St Margaret's Sheds (64A) were no longer as popular with the younger train spotters.
Munrospun
"As with most families in the Lochend area, my mother worked for a short time in Munrospun
Bunch o' Roses
"Yes, I was known to drink the odd pint in the 'Bunch O' Roses', but never too much!"
Fred Legget, Sydney, New South Wales, Australia (ever since leaving Edinburgh, 1974): 1 Jan 2016
Fred ended his email to me with the words: "Fred Legget: Sent from my washing machine"
I asked him about that comment, and he told me that it was actually sent from his iPad.