Recollections

St Mary's Street

Linking the Royal Mile and Cowgate
at the eastern boundary of the old walled town of Edinburgh

Please click on one of the links below, or scroll down this page.

1.

Edinburgh

- Toy Shop question

- Toys question

2.

Sydney, New South Wales, Australia

- Family

- Schools and Church

- Football

- Shops

- Pub

- Bonfires

3.

East London, England

- Family

4.

Edinburgh

- Rafferty Family

- Snuff

- School

- Houses

- The Stair

- Renovation

5.

Charlotte, North Carolina, USA

- Homes and Schools

- Hogmanay

- Salvation Army

6.

Edinburgh

- My Dad's Chemist Shop

- Butcher, Baker, Candlestickmaker

- Tuzi's Ice Cream Shop

- Newhaven Fishwife
Recollections
1.
Sandra Barr
Edinburgh
Question 1
Toy Shop
"Do you have any information regarding the toy shop that was on the corner of St Mary's Street and the High Street in the 1920/30s?
A gentleman called Syd Zoltie states, on the Dumbiedykes Shops page of this web site, that his uncle, Michael Schulberg owned this shop. I would be interested to know the name of the shop and any other information that might be available.
My friend's mother, now aged almost 90, remembers the toy shop and the porcelain dolls that it sold."
Question 2
Toys
"Do you have information regarding a man called Barry/Barrie (I'm not sure if it was his first name or surname) who used to give out toys to the poor children at Christmas time, again in the 1920/30s?"
Sandra Barr, Edinburgh: January 28, 2008
Answers?
If you can help to answer either of Sandra's questions above, please e-mail me, then I'll pass on your message to Sandra.
Thank you. - Peter Stubbs: February 2, 2008
Recollections
2.
John Stoddart
Sydney, New South Wales, Australia
Thank you to John Stoddart for writing about the time when he grew up in Edinburgh, living in St Mary's Street.
John wrote:
Family
"I was brought up in No 66 St Mary's Street. My dad was John Stoddart and my mother was Jenny née Dignan. Both were quite well known families in the area, big in number and stature."
Schools and Church
"Most of our family went to St Ann's School and St Pat's School, and also attended St Patrick's Church, some of us more reluctantly than others. I have to confess that my brother, Brian, and I used to spend half of the collection plate money on sweeties - we were no' on our own there, I bet!"
Football
"Brian and I both played for the school football teams at St Pat's and St Anthony's. Brian later signed for the Hibs and I played for Berwick Rangers, then Brian went to South Africa and I went to Australia.
We trained indoors in the hall that you entered from Blackfriars Street or St Ann's School.
Sandy Jardine (ex-Rangers, one of my team mates), John Greig (ex-Rangers), Alan Anderson (ex-Hearts) and Ian Thomson (ex-Motherwell) all used to do a bit of extra training there.
This was a tribute to the man who ran the club, Eric Gardener, who was probably 70 at the time. He took the training himself and never missed a beat."
Shops
"The main shops in the area were in order of importance:
1. Tuzes ice cream shop at the top of the street on the left-hand, side around the corner from the World's End pub that was then known as Rowleys. The Rowleys moved to South Africa, later on, and did very well in business, I hear.
2. Casey's sweetie shop. This was at the bottom of my stair. They made all the Edinburgh Rock and various other well known sweeties. The smells were brilliant, but we rarely had any money to buy the sweeties.
3. Gary, the newsagent, round the corner in Holyrood Road.
4. Mr McKnight, the licensed grocer, next to Gary, the newsagent. Mr McKnight ran a tick book for most of the locals. I remember he lost most of his hair at one stage. It was probably the worry of getting the money from said locals, my dad included (ha ha)."
Pub
"Down a bit was the infamous Pages Pub. This was the well known haunt of a local wino called Alice Birrell who was not averse to throwing the odd empty wine bottle if she was refused service.
My pals and I used to watch all the fights at the week-end, round the corner from Pages, although most of the scrappers were too drunk to knock snow of a dyke, as the old saying goes."
Bonfires
"We also used to raid the wood collection for the Pleasance bonfire. I remember, once, Jimmy Hush the Embers hitting my hand with a big stick and my cousin Jimmy O'Meara going to give him a 'doin' as we say. Ah! The good old days!"
John Stoddart, Sydney, New South Wales, Australia: August 20, 2008
Recollections
3.
Eric Gold
East London, England
Thank you to Eric Gold who replied to John Stoddart's comments on football in 'Recollections 3' above.
Eric wrote:
Family
"John did well with the football, and his brother Brian, too. I left Edinburgh and went to sea on the ships, so the last time I saw John and Brian was in the early-1970s."
Recollections
4.
Pat Hawke
Edinburgh
Pat Hawke wrote:
Rafferty Family
"I wonder if anyone from St. Mary's Street can remember my father and his family. Their name was Rafferty. I beleive they were quite a colourful family of about seven. They lived at 40 St. Mary Street.
They lived on the flat, just below the top flat, and my dad John took it in his head to slide down the banister and of course was injured. I remember that wooden banister, very curved and lethal! He was lucky as the gas light on the wall broke his fall."
Snuff
"I remember we used to go for snuff at the shop at bottom of St Mary's Street for my grandmother, Peggy - a quarter ounce of peppermint snuff, which i think was sixpence.
There also was a fish shop at top of street, maybe Crolla or similar."
School
"My dad went to St. Pat's school. His brothers were Adam, George and Billy Rafferty. Adam lived in the high street, or Lawnmarket."
Houses
"These houses were so small. The toilet was in a sort of cupboard which had a hole in the top, presumably for ventilation, and no sink or bath.
The living room had the kitchen in it with a small recess where a bed was put, and then there was one bedroom. There was a coal cupboard near the front door. That was how a large family lived."
The Stair
"I loved visiting my gran but the stair was always pitch black and an old man used to always shout at us and when I was young. I used to be terrified of going into the stair.
I think there was an electrician's shop at the bottom of the stair, if I remember rightly."
Renovation
"These houses have all been renovated, but I used to love walking from granny's house through Market Street and the station to get to Leith.
Oh happy days!"
Pat Hawke, Edinburgh: August 26, 2008
Recollections
5.
Joan Dunne
Charlotte, North Carolina, USA
Joan Dunne, like John Stoddart (2 above) was brought up at 66 St Mary's Street.
Joan recalls:
Homes and Schools
"I lived in a 2nd flat at 66 St Mary's Street with my mother, Mary Kingsland, until 1956. My Aunt Isa and Uncle Bill Smith moved in with their son, Billy. Billy and I attended Milton House Primary School. then I went to Boroughmuir and he went to James Clark school."
Milton House School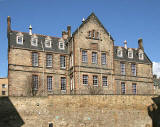 ©
"Billy and his family stayed at St Mary's Street for a couple of years, I think, then moved to Guthrie Street to be close to my grandparents, the Joe Pelosi family who also owned a fish and chip shop in the Grassmarket."
Milton House Primary School has now been re-named 'Royal Mile Primary School'.
Hogmanay
"One Hogmanay, I remember my mother cleaning the house spotless. My Uncle Bill was to be our first footer. Then we visited other homes in the stair."
Salvation Army
"I remember Alice, one of the local interesting characters from The Salvation Army, which was opposite our window overlooking the corner of the street.
I think my mother had Alice to our house for tea once. My memories are vague - and yet in some ways very strong."
Joan Bisset: Charlotte, North Carolina, USA: September 30, 2010
Recollections
6.
Hamish Horsburgh
Edinburgh
Thank you to Hamish Horsburgh who wrote:
My Dad's Chemist Shop
"My Dad had a chemist shop at 18 St Marys Street which he bought in 1949. The previous owner was Adamson so I guess he had the shop during wartime."
Butcher, Baker and Candlestickmaker
"My early recollections of St Marys Street are that in the 1950s was that there were shops up and down both sides of the street, with butchers, bakers and candlestickmakers. Busy, busy!"
Tuzi's Ice Cream Shop
"At the top of the street, on the left-hand side, going up, just before the World's End Public House was Mrs Tuzi's ice cream shop., the best ever with raspberry sauce."
Newhaven Fishwife
"Just by the traffic lights, there was always a Newhaven Fishwife selling cockles and mussels. Oh, well, happy days!"
Hamish Horsburgh: September 2, 2017