SMT workers in the 1930s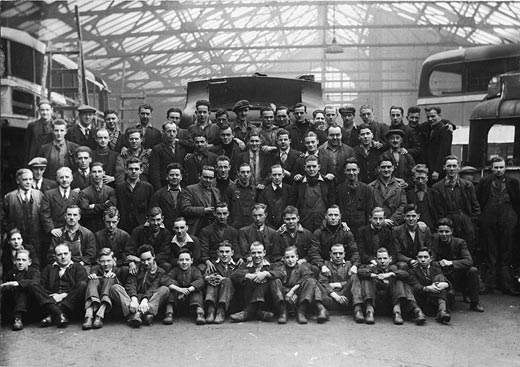 © Reproduced by courtesy of Phil Wilson, Aberdeen
SMT Workers
1930s
The photograph above was provided by Phil Wilson, who believes that it probably dates from the mid-1930s. Phil's grandfather 2nd from left, 2nd row from the front.
Acknowledgement: Phil Wilson, Aberdeen: Scotland
SMT Workers
Thank you to Alan Graham, Port Perry, Ontario, Canada, who saw the photograph above and wrote:
1930s
"I've seen this photograph before. My father (William Graham) had the same picture, taken at the SMT garage at New Street in the 1930s.
My father is in the front row centre. He worked there in the 1930s along with two of my uncles, my mother's brothers, (Andrew & Jim Young) who are also probably in the photo (probably near my father).
I also had an uncle (Bob Stewart) who was a driver for SMT. (Mother's sister's husband)."
Alan Graham, Port Perry, Ontario, Canada: May 30, 2008
Reply
1.
Bill Goodall
Bateman's Bay, NSW, Australia
Bill Goodall wrote:
Jock Goodall
"I, too, have a copy of this picture. My mechanic father, John (Jock) Goodall, is sixth from the left in the second-back row;. He went on to become Deputy Chief Engineer at the SMT and Scottish Omnibuses, as it later became."
Bill Airs
"Elsewhere in the shot, though I can't remember precisely where, is Bill Airs, father of Gordon Airs, who was for many years Chief Reporter at the Daily Record.
Gordon and I began our journalistic careers together, with the old Edinburgh Evening Dispatch, later subsumed by the Evening News."
Bill Goodall, Bateman's Bay, NSW, Australia