Photographs of
Thomas Rodger Sen.
(1809 - 1876)
Father of the pioneer photographer Thomas Rodger [Jun]
Thomas Rodger Sen.
dressed in Newhaven Fishwives' costume.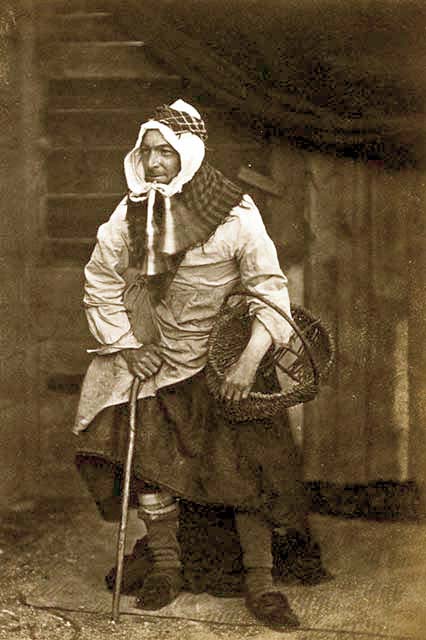 © Reproduced by courtesy of St Andrews University Library A LB49-11
Thomas Rodger Sen."Playing the Bellows"
seated beside Hungarian violinist, Edouard Remeny.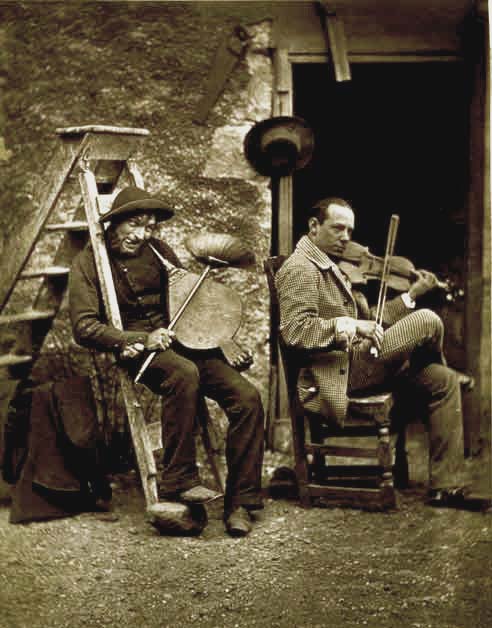 © Reproduced by courtesy of St Andrews University Library ALB49-12
Photographs
The two photos above are from the collection held by St Andrew's University Library. They show Thomas Rodger Sen in fancy dress. Both photos are attributed to Thomas Rodger Jun.
Please click below to see another photograph of Thomas Rodger, Sen., this time not in costume
Date of Birth
Date of Birth
On this page, I had originally given a date of birth of '1809/10' for Thomas Rodger. However, I can now thank Peter Francis, (g.g.g.grandson of Thomas Rodger, Sen) for telling me:
"Thomas Rodger senior was baptized on 13th August 1809, so itís a safe bet that he was only born a few days earlier. He died on 15th February 1876."
Peter Francis, : June 11, 2008
Family Name
Peter Francis has also been researching the family name.
Peter writes:
"The spelling of Rodger is a bit of a minefield. Senior was born Roger in 1809, married as Roger in 1832, shown as the father of his son who was born 3 months later (!) as Roger, yet he died as Rodger in 1876. Junior was born Roger in 1832, married as Rodger in 1855 and died as Rodger in 1883. So somewhere between 1832 and 1855, they all added a D! Best left alone perhaps, weíll never know the answer.
Another curiosity to which there will be no answer is why Thomas Rodger, my great grandfather, born 1856, became Thomas Rodger Rodger by the time of his marriage in 1880. And to add a red herring for family tree researchers, Thomas Rodger juniorís youngest brother, John, christened his first born son Thomas Rodger Rodger in 1884! Crazy!
Peter Francis, g.g.g.grandson of Thomas Rodger, Sen: June 11, 2008