Wild life photographer and EPS Lecturer
Charles Reid
1837 - 1929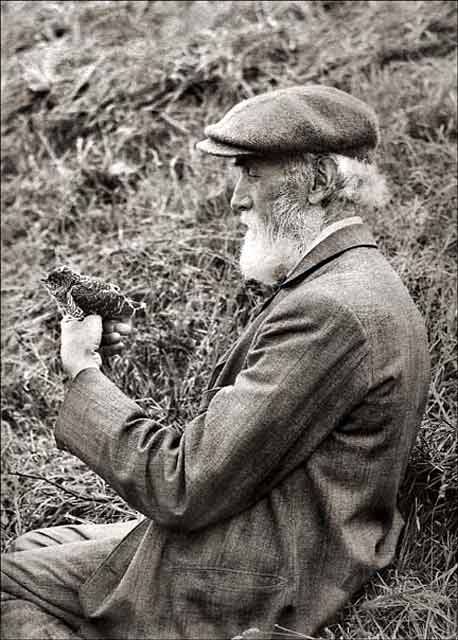 © Reproduced with acknowledgement to the Hamilton Town House Reference Library
and to the Hamilton Natural History Society
Charles Reid
Photographer
Charles Reid was a keen bird and wildlife photographer. He gave lectures to Edinburgh Photographic Society, in:
- 1882: 'Some Experiments in Animal Photography'.
- 1890: 'Animal and Bird Studies'.
- 1896: 'Animal Photograph'.
Charles Reid also had a studio in Wishaw from which he produced portraits.
It was Norman Tait who told me about this photo of Charles Reid.
Norman added:
Biographies
"I have written an illustrated chapter about Scottish pioneer wildlife photographers for the forthcoming (January 2008) book entitled Birds of Scotland, published by the Scottish Ornithologists' Club.
In that chapter there is a brief biography of Charles Reid and his work. The biography is based on an article in the Scottish Country Life magazine of 1915, pages 189-190, entitled, 'A Master of Photography : Charles Reid, Wishaw'. "
Norman Tait FRPS November 24, 2007
Acknowledgements
The photograph above is taken from the 1914 edition of 'The Hamilton Natural History and Photographic Society's manuscript magazine. A copy of that magazine was gifted to Hamilton Town House Reference Library by Hamilton Natural History Society.
Thank you to Hamilton Town House Reference LIbrary and to Hamilton Natural History Society for allowing me to reproduce this photo, and to Norman Tait for telling me about the photo.
Young Cuckoo
Late Summer
Thank you to Phil Wilson, Aberdeen, Scotland, who wrote:
"For the curious, the bird that Charles Reid is holding is a young Cuckoo, so the photo will have been taken, in view of the birds size, probably round about August, and at any event in late summer)."
Phil Wilson, Aberdeen, Scotland: March 9, 2008
You're quite right, Phil. The bird is a young cuckoo. I included that in the title of the photo but I forgot to mention it in the caption when I added the photo to the web site yesterday.
- Peter Stubbs: March 9, 2008