Photograph
Outdoor Curling Match
Where is it?
Answer: Duddingston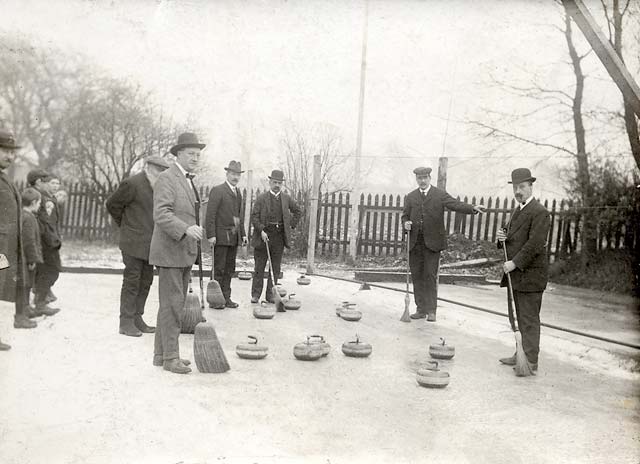 © Copyright: For permission to reproduce, please contact peter.stubbs@edinphoto.org.uk
Outdoor Curling Match
Here is a photograph of an outdoor curling match - ane event that has now become far less common, due to the milder winters and more consideration is given to 'health and safety' in recent years.
Question
Where was this photo taken? If you recognise the occasion or the place, please e-mail me. Thank you.
This photograph was found pasted onto the cover of a photograph album, for sale at a recent Christian Aid sale in Edinburgh. On the back of the cover was the name, Margaret A Currie.
Reply
1.
Archie Young
Moredun, Edinburgh
Thank you to Archie Young, Moredun, Edinburgh for telling me about this postcard and others in Margeorie Mekie's collection.
These postcards showed that the photo at the top of this page was taken at Duddingston, possibly on 31 December 1913.
Reply
2.
Nicky Bovey
Moredun, Edinburgh
Thank you to Nicky M Bovey who wrote:
Margaret A Currie
"My mother's name was Margaret Anne Currie Davie, and her father was a curling champion in the 1920s.
However she was not born until 1923 so that's a bit late for this photo to be attributed to her, although she could have had it passed to her by her father who died when she was just 14. A coincidence though!"
Nicky M Bovey: April 4, 2011
Update
In 'Reply 3' below, Nicky Bovey, revises the views expressed above.
Reply
3.
Nicky Bovey
Moredun, Edinburgh
Nicky M Bovey wrote:
Margaret A Currie
"I have now heard from my uncle and he is absolutely certain that this photo has nothing to do with our family. It is just a coincidence of names.
Many apologies for leading you up a dead end!"
Nicky M Bovey: April 13, 2011