No 24
Craighall Crescent
The Wood Family
The Wood Family Home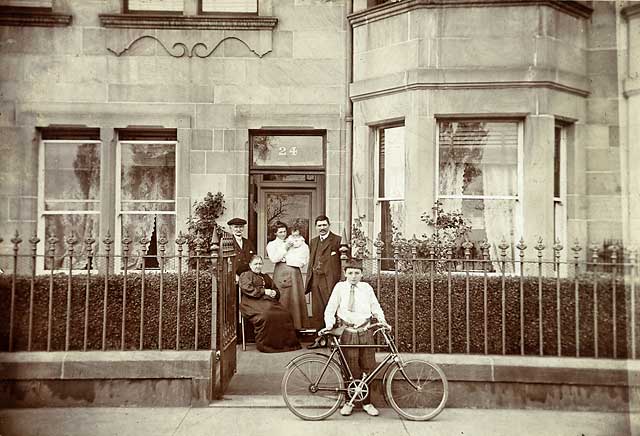 © Reproduced with acknowledgement to June Scott, Bonaly, Edinburgh
No 24, Craighall Crescent
The Wood Family
Family Home
Craighall Crescent lies on the high ground above Newhaven. It is on the west side of Craighall Road, almost opposite Trinity Academy.
This was the home of the Wood Family. The people in this photo are believed to be:
1. probably Grandparents - but who were they? *
They also appear in the photographs below.
2. Parents: William Burnup Leslie Wood 1874-1954
and his wife, Elizabeth Kutchman Stewart Wood b1879
3. Children: James 1903-1991 and his younger brother Stewart.
* The old couple on the photograph at the top of this page could not have been William Burnup Leslie Wood's parents, George (1842-1879) and Ann (1845-1916), because George died about 30 years before the photo was taken.
Fish Merchants
William Burnup Leslie Wood and his brother, James, operated a wholesale fish merchants' business, Wood Brothers. They delivered fish from Newhaven Harbour to Edinburgh. The business first used horse and cart, both kept across the road from No 24 Craighall Crescent.
Later, when the horse suffered an injury with a nail through its hoof, the Wood Brothers purchased this van. The never returned to using horses.
Garage
James Wood became the owner of Wood's Garage in Craighall Road, opposite Trinity School. He employed his brother, Stewart (full name William John Stewart Wood).
James began by renting out space in Craighall Road for parking cars overnight. (In the late 1920s, motorists were not permitted to leave their cars on the street overnight in Edinburgh.)
Later James set up his garage on the site - Wood's Garage. It was a wooden building with a corrugated iron roof, next to the scout hut. It opened in 1929 and remained in business until around 1964. Here, James repaired cars, sold cars and later sold petrol and diesel fuel.
The garage has now been demolished and flats have been built on the site.
Hobbies
James Wood became one of the founding members of the Edinburgh Aero Club when it was established at Turnhouse Aerodrome in 1928. The club purchased a surplus World War I plane as a kit for £5, then constructed it.
James Wood's interests included fishing in the Tyne in the Lothians near Edinburgh, and shooting. He renting shoots at Pathhead and elsewhere around Edinburgh, and taught shooting to the Home Guard during World War II
Thank you to June Scott, Bonally, Edinburgh for providing the details above in October, 2006. June Scott is daughter of James Wood.
The photograph at the top of this page is a half-plate photo, 6.5 x 4.25 ins. It is mounted on brown card measuring 10ins x 8 ins. There is no photographer's name on the photo.