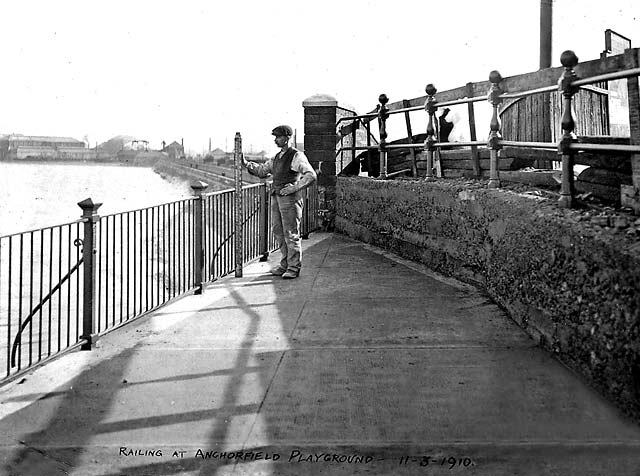 © Reproduced with acknowledgement Archie Foley, Portobello
Anchorfield Railings
March 1910
This photo is captioned:
'Railings at Anchorfield Playground 11-3-1910'
What is the significance of 'Playground' in this caption? I see none in the photo. I assume that it was either nearby or yet to be built.
Acknowledgement: Archie Foley, Joppa, Edinburgh: January 14, 2010
This is one of a series of photos posted onto boards in an old album that Archie Foley acquired a few years ago. Archie believes that these are likely to be official photos that probably once belonged to Leith City Council.
Reply
1.
Walter Lyle Hume
Cowes, Isle of Wight, England
Earlier, on seeing this photo, Walter Lyle Hume wrote:
Path to the Shipyard
"You can see the path to the shipyards in the middle background."
Walter Lyle Hume, Cowes, Isle of Wight, England: January 13, 2007
Reply
2.
Bob Henderson
Burdiehouse, Edinburgh
Bob Henderson wrote:
Playground
"The gent in this picture is holding a surveyors staff used for taking levels, so I suppose the work was still in progress."
Bob Henderson, Burdiehouse, Edinburgh: January 18, 2010
Newhaven

Newhaven
Old Photos

Newhaven
Postcards

Newhaven
Other Pages