Water of Leith
Lower Drawbridge, Leith
Removed March 1910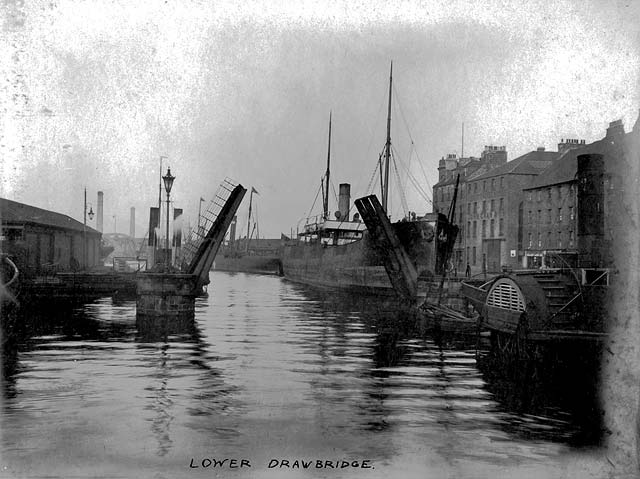 © Reproduced with acknowledgement to Archie Foley, Joppa, Edinburgh
Site of Lower Drawbridge - 2005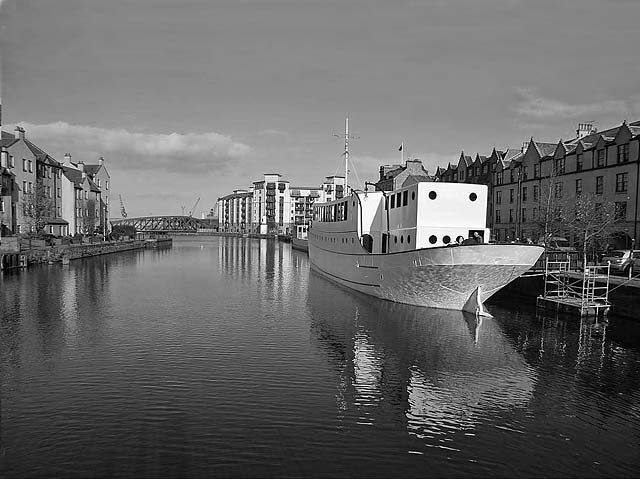 © Copyright: Peter Stubbs - please contact peter.stubbs@edinphoto.org.uk Photo taken: October 31, 2005
| | |
| --- | --- |
| Drawbridge demolished 1910 | 2005 |
Comparison of c.1910 photo and 2005 photo
Lower Drawbridge
The two photos above both look to the north from the bridge at Bernard Street, down the Water of Leith towards the site of the Lower Drawbridge and Leith Docks.
The industrial scene in the early photo has been replaced by new housing (left and centre) and refurbished buildings along The Shore (right).
The chimneys have vanished from Leith Docks, but the old swing bridge near the entrance to the docks has survived. The large ship and paddle tug have been replaced by barges and a floating restaurant.
Water of Leith
Lower Drawbridge
Location
This photo shows the lower drawbridge that used to cross the Water of Leith a few yards to the north of the present road crossing at Bernard Street Bridge (beside beside Leith Custom House at the eastern end of Commercial Street).
The old photograph above looks to the NE across the Water of Leith towards New Ship Temperance Hotel at 20 Shore, Leith. This is close to where the ship, Ristorante De Niro, is now moored (in 2010).
Sandport, Tower Place,
and Ship (Ristorante De Niro)
Map
The old drawbridge can be seen, top-centre, on this 1870 map of Leith. It crosses the Water of Leith between the letters 'A' and 'R' of LEITH HARBOUR written on the Water of Leith.
Lamp Posts
Does anybody recognise the style of lamp post beside the drawbridge? There is also a lamp post with globe, just about visible on the far shore of the Water of Leith.
Another View of the Drawbridge
Here is another photo of the Lower Drawbridge on the Water of Leith at Leith:
Acknowledgement: Archie Foley, Joppa, Edinburgh: January 5, 2010
This is one of a series of photos posted onto boards in an old album that Archie Foley acquired a few years ago. Archie believes that these are likely to be official photos that probably once belonged to Leith City Council.
Reply
1.
Frank Ferri
Newhaven
Thank you to Frank Ferri who wrote:
Location
"The Lower Draw Bridge at the Shore Leith was just beyond the present Bernard Street Bridge to the right of the ship's bow.
You can see the big gate of Brown's, ship repairers. They are still in business. Two barges are berthed there now."
Frank Ferri, Newhaven, Edinburgh: January 17, 2011
Brown's, Ship Repairers
Here is a photo of this section of the Water of Leith, taken in 2007. It shows Brown's ship repairing works (white and blue in this photo) on the eastern bank of the Water of Leith and the barges mentioned by Frank above.
Peter Stubbs, Edinburgh: January 17, 2011