Bridge over the Water of Leith
Upper Drawbridge
now
Sandport Place Bridge
Upper Drawbridge, Leith - 1910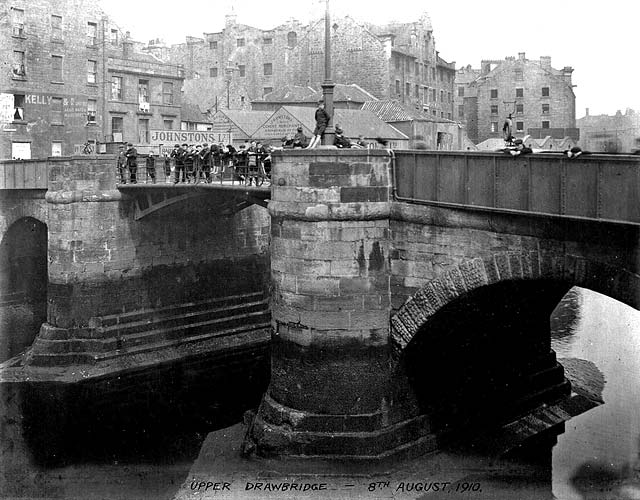 © Reproduced with acknowledgement to Archie Foley, Joppa, Edinburgh
Sandport Place Bridge, Leith - 2011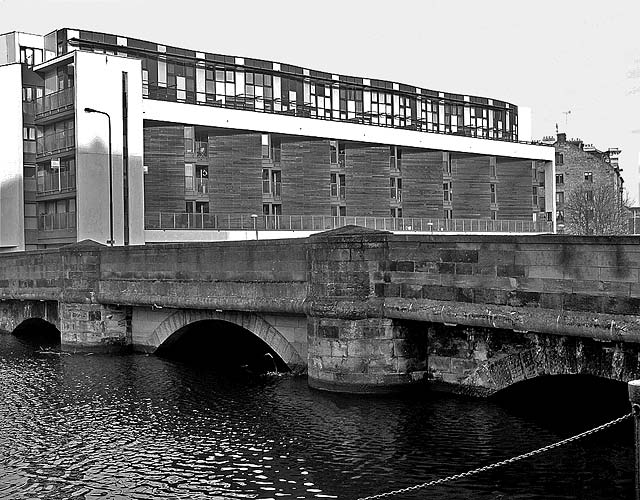 © Copyright: Peter Stubbs - please contact peter.stubbs@edinphoto.org.uk Photo taken: January 21, 2011
Comparison of 1910 and 2011 photos
Bridge over the Water of Leith
The two photos above show the same view, but were taken about 100 years apart. Both photos look north over the bridge at Sandport Place, towards Ronaldson's Wharf. The first was taken at low tide. Now there are locks on Leith Harbour so the water level is always 'high'.
Upper Drawbridge
Location
The bridge over the Water of Leith at Sandport Place is where the Upper Drawbridge once stood. This view looks to the north across the upper drawbridge towards the buildings on Ronaldson's Wharf.
There was a large crowd of youths standing on the bridge when this photo was taken in August 1910.
Map
The Upper Drawbridge is the first bridge over the Water of Leith upstream from the bridge linking Commercial Street and Bernard Street. It can be seen on this 1870-71 map, immediately to the left of the letter 'L' of 'LEITH HARBOUR' written in the Water of Leith.
Google Map
The upper drawbridge in this photo was immediately to the right of the 'A' symbol on this Google map.
Buildings
The buildings beside the Water of Leith to the east of the Upper Drawbridge on the north bank of the river in Ronaldson's Wharf. The first two buildings are Kelly & Co and Johnstons Ltd.
The signs on their buildings read:
D. KELLY & CO. LIMITED
AERATED WATER MANUFACTURERS
and
JOHNSTONS LTD.
BUILDER'S MERCHANTS
CEMENT MERCHANTS
EDINBURGH OFFICE
122 GEORGE STREET
Another Photo of Upper Drawbridge
Here is another photo of Upper Drawbridge, Leith. This photo looks across the river from Coalhill to the old buildings in Ronaldson's Wharf:
Acknowledgement: Archie Foley, Joppa, Edinburgh: January 5, 2010
The tow photos above are from a series of photos posted onto boards in an old album that Archie Foley acquired a few years ago. Archie believes that these are likely to be official photos that probably once belonged to Leith City Council.
Reply
1.
Frank Ferri
Newhaven
Thank you to Frank Ferri who wrote:
Location
"The Lower Draw Bridge at the Shore Leith was just beyond the present Bernard Street Bridge to the right of the ship's bow.
You can see the big gate of Brown's, ship repairers. They are still in business. Two barges are berthed there now."
Frank Ferri, Newhaven, Edinburgh: January 17, 2011
Brown's, Ship Repairers
Here is a photo of this section of the Water of Leith, taken in 2007. It shows Brown's ship repairing works (white and blue in this photo) on the eastern bank of the Water of Leith and the barges mentioned by Frank above.
Peter Stubbs, Edinburgh: January 17, 2011