The Fiddler
"I was having a look at your photo of the fiddler in the garden at Holyrood Palace and thought it rang a bell with me.
If you have a look at the book, 'Thomas Begbie's Edinburgh, a Mid-Victorian Portrait', you'll find Plate 17 on page 50 shows 'The Fiddler' taken possibly in the late 1850's.
Quoting from the book:
The Fiddler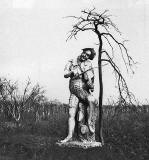 ©
Plates 17 and 18 are almost certainly works by the self-taught sculptor, Robert Forrest, (1790-1852) whose 'Exhibition of Statuary' on the Calton Hill in Edinburgh was one of the wonders of the city in the nineteenth century. At some stage after his death the sculpture moved to the Royal Gymnasium at Fettes Row and sold from there by Lyon and Turnbull on Monday, 6th November 1876. Lot 7, 'The Fiddler' sold for 55/-.
Plate 17. Begbie has a great interest in sculpture and made a number of interesting negatives of work by native carvers. This piece is attributed to Robert Forrest (1790-1852), who had an enormously successful sculpture park on the Calton Hill from 1825 until his death, very little of which survives.
Alan Wilson, Trinity, Edinburgh: July 5, 2010
Calton Hill Statues
Thank you, Alan for reminding me that the statue of the fiddler once stood on Calton Hill. I've now added the Begbie photograph of 'The Fiddler' statue on Calton Hill to the EdinPhoto web site. Please click on the thumbnail image above to see the Begbie photo.
Some of the detail in the stone carving has worn away over the 150 years between the Begbie photo taken on Calton Hill and my photo taken in the grounds of Holyroodhouse in 2010.
Peter Stubbs, Edinburgh: July 11, 2010