Links to a few pages on EdinPhoto web site
Pew Rental
New Greyfriars' Church
Old Town, Edinburgh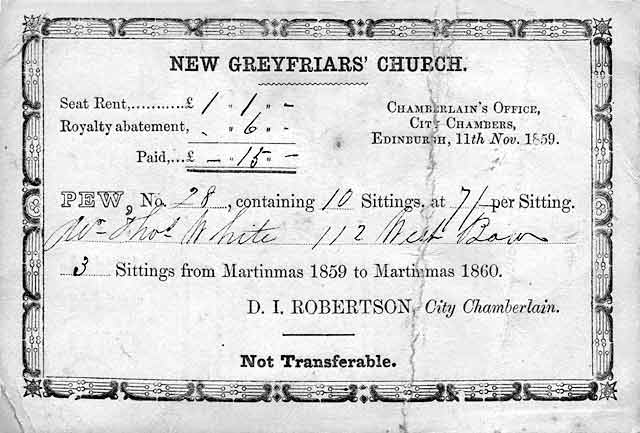 © Reproduced with acknowledgement to Dave Schofield, Philadelphia, Pennsylvania, USA
New Greyfriars' Church
This Pew Rental document, dated 1859, is from New Greyfriars' Church.
Greyfriars' Church
The original Greyfriars' Church was built between 1602 and 1620, but in 1718 it was partially wrecked when gunpowder stored in the church tower exploded.
Rather than just repair the original church, the town council commissioned plans for a second church (New Greyfriars) to be built against the west end of the existing church. The New Greyfriars' Church was opened in 1721.
The congregations of the old and new churches appear to have been separate until they became united in 1929.
The address on the pew rental document 112, West Bow, a short distance from Greyfriars' Church.
112 West Bow
West Bow was the steep, winding road that once led from the grass market up the hill to Edinburgh Castle. Most of the road was replaced by Victoria Street when George IV Bridge was opened, but the lower section of the road, including No 112 still remains, at the east end of the Grassmarket.
Acknowledgement:: Dave Schofield, Philadelphia, Pennsylvania, USA: January 27, 2007
__________________

Links to a few pages on EdinPhoto web site