Ex-Edinburgh Corporation Aveling & Porter
Steam Tractor
Aveling & Porter Steam Tractor at Old Warden, Bedfordshire
No. 12152 (SC1577)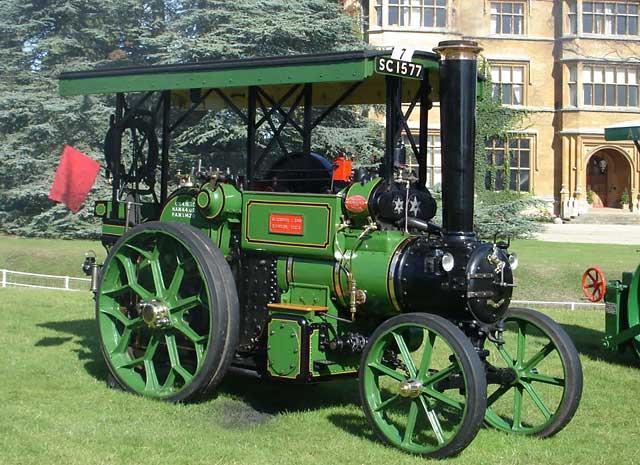 © Sandy Ross, Redbourn, Hertfordshire, England, owner of the tractor
Comments
1.
Sandy Ross
Redbourn, Hertfordshire, England
Thank you to Sandy Ross for sending the photograph above of ex-Edinburgh Corporation steam tractor, SC1577.
Sandy wrote:
Steam Tractor
Edinburgh Corporation
"This 5-ton compound steam tractor was built by Aveling & Porter Ltd of Rochester, Kent, in 1928, and supplied new to Edinburgh Corporation.
Edinburgh Corporation Roads Department used it for road maintenance work in conjunction with a fleet of steam rollers, of which two Marshall and a Fowler roller still survive.
The tractor hauled trailers containing roadstone from Barnton quarry to local depots, and was used for road repair jobs, the winch being used to pull out trees and scrubs on roadside, as required.
Based at the McLeod Street Depot, Edinburgh, it last worked commercially in the late 1950's and has been in preservation since then. It was originally ordered with a full length canopy, but has no governor or flywheel brake.
I've met its last driver of the tractor, Archie Gray,"
The Tractor
"The tractor is to the makers 'L' type, and is a 4 n.h.p. piston valve successor to the Aveling 'XAC4' and 'GND' tractors, which were designed in 1904 to meet the requirements of the new road traffic order of that year which abolished the need for a second man on the footplate.
This later series of engines was built from 1920 to the early- 1930s and incorporated many of the design features of the contemporary steam road rollers.
The cast 'Y' wheels have pressed-on rubber tyres and were designed to suit the newer metalled roads then being introduced. It has a road speed of 2mph."
Photos Wanted
"I purchased the tractor in 1993 and moved it to Hertfordshire. Since then, the engine has been extensively overhauled and the original Aveling livery restored, the painting and lining-out being based on works photographs.
I'd like to find photos showing this tractor, while still working in Edinburgh.
There are several extant photos of the Corporation's steam rollers, but I have yet to locate one showing this tractor. It last worked commercially in 1958, and is currently in my ownership.
The tractor must have been a common sight on the Edinburgh streets between 1928 and 1958, so one would hope that it was captured on film at some time."
Sandy Ross, Redbourn, Hertfordshire, England: 13 + 16 August, 2008
If you know of any photos of this tractor while it was still working in Edinburgh, please email me, then I'll pass on the news to Sandy.
Thank you. - Per Stubbs: August 16, 2008.
Comments
2.
Sandy Ross
Redbourn, Hertfordshire, England
Thank you to Sandy for writing again, sending another photo of his steam tractor.
Here is the photo that Sandy sent, followed by his comments:
Steam Tractor
1953 Photo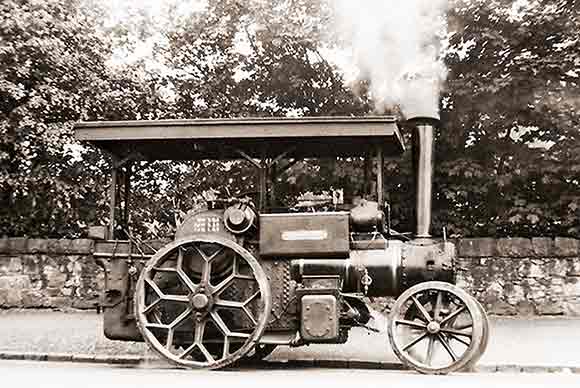 © Reproduced with acknowledgement to Sandy Ross, Redbourn, Hertfordshire, England, owner of the tractor
"I recently acquired a photograph of my Aveling and Porter steam tractor, registration SC1577, new to Edinburgh Corporation in May 1928. I believe this photo was taken on Queensferry Road near Barnton Quarry, from where the tractor hauled roadstone to road repair sites. The photograph is dated 1953
You will notice few differences in the engine from the published photograph taken at Old Warden steam rally taken in recent years. The tractor remained with the Corporation until 1958, but like the steam rollers survived into the modern steam preservation era."
Sandy Ross, Redbourn, Hertfordshire, England: 13 + 16 August, 2008