Tram
at
Church Hill
Originally thought to be Newhaven Road
Alex Pringle (motorman) and his conductor
Early 1920s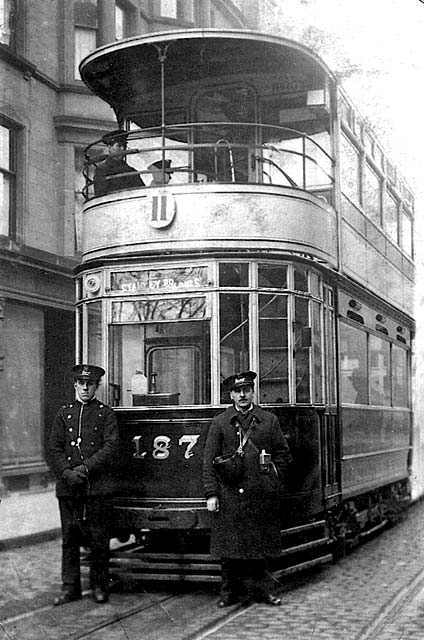 © Reproduced with acknowledgement to Bryan Gourlay, Biggar, Lanarkshire, Scotland
Recollections
1.
Bryan Gourlay
Biggar, Lanarkshire, Scotland
Thank you to Bryan Gourlay for sending me this photograph of Alex Pringle who served for the Royal Scots during World War I, then became a tram driver on his return to Edinburgh.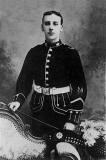 ©
The photograph below is of Alex standing in front of his cable car. It would have been taken in 1923 or earlier. That's the last year that cable cars ran in Edinburgh.
Bryan wrote:
Alex Pringle
"When my great uncle, Alex Pringle, returned to Edinburgh he became a tram conductor and subsequently a driver (motorman) for 'Edinburgh Corporation Tramways and Motors', before emigrating to Edmonton, Canada with his family in 1926.
Newhaven Road? ***
"In this photo, Alex is standing on the right of his cable car. The cable car is No 187 on route 11 which went from Stanley Road to the Braids' terminus.
I'm as sure as I can be that the photo would have been taken on Newhaven Road *** just north of the Stanley Road junction, and that the tenements are still there just down the hill towards Newhaven from the east entrance to Victoria Park."
*** But see 'Recollections 2 + 3, below
My Dad
"My dad grew up in Tollcross. He told me that he often hitched a ride up the hill to Bruntsfield School on his uncle Alex's cable car."
Bryan Gourlay, Biggar, Lanarkshire, Scotland: October 15, 2010
Recollections
2.
David King
Trinity, Edinburgh
Thank you to David King who wrote:
Not Newhaven Road
"This photo could not have been taken in Newhaven Road, as the vehicle is standing on cable car track, with the centre slot.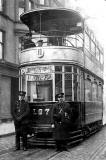 ©
But Newhaven Road did not have a cable car line at any time, to the best of my knowledge. The Newhaven Road route was part of the Leith system, which moved straight from horse operation to electric in 1905.
Here is a 1920 map, showing the Leith tram lines in blue and the Edinburgh Corporation tram lines in red. Please click on this map to enlarge it."
Cable Cars and Electric Trams
"The vehicle is a former cable car, but is on a four wheel electric truck, not the two bogies used in cable days.
The vehicle was converted from a cable car in 1922.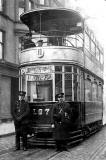 ©
At the time of the changeover from cable to electric in Edinburgh, the slot was usually left in position and overhead wires put up. Both both types of car could then use the line in the short term as routes were converted a few at a time.
Eventually the cable was removed when no longer needed and the slot removed when the track was due for repair.
Bryan Gourlay's use of the term 'motorman' tends to confirm that it is an electric car – that was a term used for electric tramcar drivers; the cable car drivers being officially 'grippermen'."
Route 11
"The tram is on route 11, extended after the amalgamation of Edinburgh and Leith to run between Stanley Road and 'Braids' (on Comiston Road, near the Braid Hills Hotel).
The extended route started around August 1922. The present No.11 bus route follows the same route but has been extended at the ends.
Before the Edinburgh and Leith, amalgamation Leith cars did not carry route numbers."
Location?
"I don't know where the picture was taken, but if it was on the normal route, not specially posed, it has to be between Pilrig Church and Braids.
If Bryan's relative is actually in front of the tramcar, rather than at the rear, the car is on the wrong line – left hand running was the rule – so it may be at a terminating point, possibly an intermediate one, and about to run over a crossover onto the correct line."
1922 to 1926
"I think the date of the photograph must be between 1922 and 1926 (when this car was scrapped).
Maybe someone else recognises the location – my guess is somewhere between Tollcross and Braids as it doesn't look like Leith Walk, York Place, St Andrew's Square, Princes Street or Lothian Road."
David King, Trinity, Edinburgh: October 20, 2010
Recollections
3.
David King
Trinity, Edinburgh
Thank you to David King who wrote again saying:
Church Hill
"I've now had another look at this photo and think that it would have been taken at Church Hill."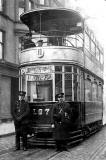 ©
"Compare it with this photo of a tram at Church Hill in 1952, on the National Tramway Museum web site."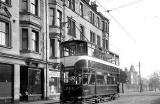 ©
David King, Trinity, Edinburgh: October 20, 2010
Please click on bottom thumbnail image above to enlarge the picture and read more about the photo and the tram route.
Recollections
4.
Bryan Gourlay
Biggar, Lanarkshire, Scotland
Thank you to Bryan Gourlay who replied:
Church Hill
"I'm sure David King is correct, and that the location is Church Hill. I should have noticed that the lie of the land is too flat for Newhaven Road. It looks to me very much like a staged photo."
Alex Pringle
"Alex Pringle was with the tramway during the period that David mentions. He left the service on April 25, 1926 He went on to drive trams in Edmonton, often having to take shifts in the freezing winter conditions, down to about -40C, which local drivers didn't want."
Bryan Gourlay, Biggar, Lanarkshire, Scotland: October 15, 2010
Reference
Thank you to Bryan for also sending me a copy of a typed reference letter, provided for Alex Pringle when he left his employment in Edinburgh.
The letter read:
Edinburgh Corporation Tramways and Motors
2 St James Square
Edinburgh 25th April 1926
To Whom It May Concern
This is to certify that ALEXANDER PRINGLE has been in the services of the Edinburgh Corporation Tramways and Motors Dept as a Motorman and Conductor from July 1919 to 25th April 1926.
During this period, we have always found him to be sober, punctual and attentive to his duties.
He leaves the service of his own accord in order to proceed Abroad, where I wish him every success.
R McLeod
Traffic Superintendent.