A Lanny and his ice cream shop - Henderson Street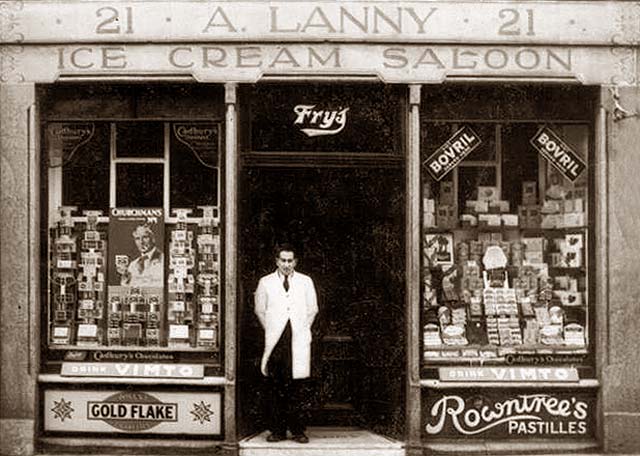 © Reproduced with acknowledgement to John Stewart, Livingston, West Lothian, Scotland
Henderson Street
Thank you to John Stewart for allowing me to reproduce this photograph of Angelo Lanny at his ice cream shop, 21 Henderson Street, Leith.
John wrote:
Ice Cream Shop
""I was in touch with Lucia Lanny, today. She is Angelo Lanny's daughter, born 1927. She told me that this photo of Angelo was taken in 1924 when he opened his shop at Henderson Street, Leith.
Ice Cream Barrow
Here is another photo of Angelo, this one taken a couple of years earlier when he was selling ice cream from his barrow in Duke Street."
John Stewart, Livingston, West Lothian, Scotland: email, Nov 11, 2010 + phone call, Nov 16, 2010
Acknowledgement
John Stewart is author of the 'Old Leither' web site. One of the sections in that site, 'Italian Connections', looks at some of the Italians who have settled and set up business in Leith.
The photos above are featured in the Italian Connections section of the 'Old Leither' web site.